Parrot by Starck Zikmu WiFi & Bluetooth speakers with iPod dock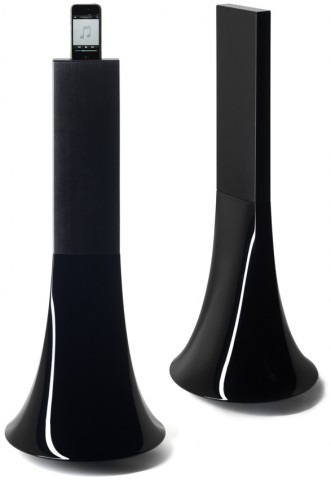 Parrot have teamed up with designer Philippe Starck to create a new set of wireless speakers.  Called Zikmu, the speakers incorporate an iPod/iPhone dock together with WiFi and Bluetooth; the latter is used both to stream audio from mobile devices such as cellphones using A2DP, and to connect the two speaker columns themselves together.
Zikmu uses NXT flat panel technology, rather than traditional speaker cones, and as such doesn't create a so-called "sweet spot" for the music.  As well as playing music locally from your PMP, they can also stream it across a WiFi network.  Instead, Parrot are claiming full 360-degree sound, while Starck goes one step further and compares it, bizarrely, to a fragrance:
"We were not aiming to create just another speaker. Our design focused more on making the air vibrate. There is actually a three-dimensional feel to this vibration, meaning that the air is palpable, almost humanlike in presence, like a fragrance" Philippe Starck
Hyperbole aside, the speakers stand 2.5 feet high and come with a remote control; they'll also recharge your iPod or iPhone.  The Parrot by Starck Zikmu speakers will be on sale from Spring 2009, priced at $1,500.
Press Release:
Parrot and Philippe Starck Partner to Create Couture Stereo Speakers

'Zikmu' Wireless Speakers Inspire New Sound Experience through Fashionable and Innovative Technology

Parrot, a leader in wireless mobile telephony devices, today unveiled 'Zikmu', the Parrot by Philippe Starck set of wireless speakers.

To discover an object or a place designed by Philippe Starck is to walk into a world of vivid imagination and to live a fantasy. For more than 30 years, this unconventional creator, designer and architect has been boldly present in our everyday life, creating iconic destinations that are pure poetry and change the vision of life and objects that are "good" before they are beautiful.

Designed to blend elegant minimalism with the latest and popular technologies, the Parrot by Philippe Starck wireless speakers are timeless works of art with their aerial curves and dense black color.

"These speakers are thoroughly modern, thanks to all their technical specifications and minimalist design," explains Philippe Starck. "They feature the most extreme and innovative technology with the fewest possible materials to deliver maximum effect: that is the magic."

Fashionable Technology

'Zikmu' stands at the cutting edge of new wireless technologies and streams audio tracks without any wires in sight thanks to its dedicated iPod® / iPhone™ docking station and Wi-Fi and Bluetooth® technologies. The two speakers communicate with each other using Bluetooth technology in order to position both speakers wherever in the room.

"The way we listen to music has radically changed: when I was a kid, you took an LP, you put it on the record player and then you listened to it," explains Henri Seydoux, CEO and founder of Parrot. "Nowadays, you carry your music around with you, which can come from a wide range of sources. With the Parrot by Philippe Starck speakers, we wanted to create an eye-catching product to accompany these new ways of enjoying music," Henri Seydoux adds.

The Ultimate iPod®/iPhone™ Accessory

'Zikmu' has been designed for compatibility with the entire range of latest generation Apple players. Using the docking station built into one of the columns, users can enjoy their favorite music while recharging their iPod® or iPhone™ music player. In addition, the speakers and connected device can be controlled from anywhere in the room using the Parrot by Starck smart remote control.

Audio tracks can also be streamed from a user's PC or Mac® to the speakers via Wi-Fi or through Bluetooth® stereo (A2DP) wireless technology.

360° Surround Sound

The Parrot by Starck speakers revolutionizes traditional acoustic design by using innovative audio technology to bring consumers a 360° immersive sound experience thanks to NXT™ technology. An extra-flat membrane creates small-scale vibrations across its entire surface to faithfully reproduce the medium and treble frequencies, optimally radiating sound from both sides of the speaker. Regardless of the size of the room and the position of the columns, the sound will adapt to the acoustics.

"We were not aiming to create just another speaker," says Philippe Starck. "Our design focused more on making the air vibrate. There is actually a three-dimensional feel to this vibration, meaning that the air is palpable, almost humanlike in presence, like a fragrance."

The size of the speakers (2.5 feet tall) has been specially designed to maximise listening quality when sitting on the sofa or at the desk for an optimal sound experience every day.

The Parrot by Starck wireless speakers will be available for Spring 2009 at a suggested retail price of $1,500