Parrot Bebop Drone hands-on: Oculus Rift's eye-in-the-sky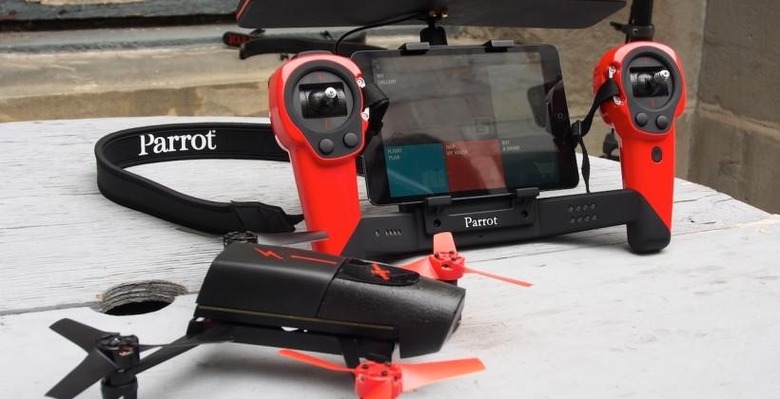 Parrot is taking to the skies again with the Parrot Bebop Drone, focusing on high-definition video recording with no moving camera parts, unlike rivals like the DJI Phantom 2 Vision+. Building on Parrot's two generations of AR.Drone, the new quadricopter is smaller, smarter, and more maneuverable than the drones that came before it; we grabbed some time at the controls – including using Oculus Rift integration to make you feel like you're riding along – to find out more.
Drones with cameras aren't new; in fact, both of Parrot's previous models have supported streaming video from the quadcopter to the iOS or Android device used to remotely control them. What that pair of AR.Drones haven't really delivered is especially usable footage, however, given the inherent shakiness of a flying platform.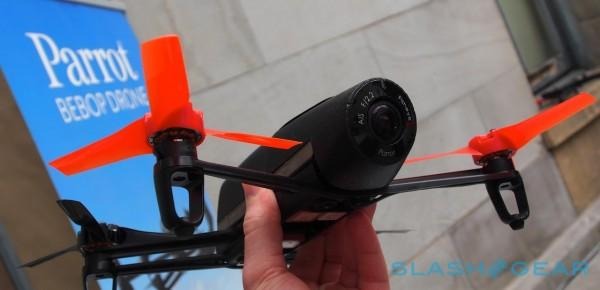 The way the Bebop Drone addresses that is novel, given rivals like DJI have turned to gyroscopic mounts and such to try to physically isolate their onboard cameras. Parrot's camera has a 14-megapixel sensor – far higher resolution than the Full HD video it's capable of recording to its onboard 8GB of storage, or indeed streaming to the phone or tablet being used to operate it – and takes a computer-controlled crop of that overall frame.
Using a swift quadcore graphics processor and Parrot's home-cooked algorithms, the Bebop Drone can deliver 3-axis image stabilization along with horizon curve correction, despite there being no moving parts to the camera. It shoots through a fisheye lens, too, so using a virtual joystick the pilot can "pan" around the frame for a 180-degree view, even if the drone is still facing in the same direction.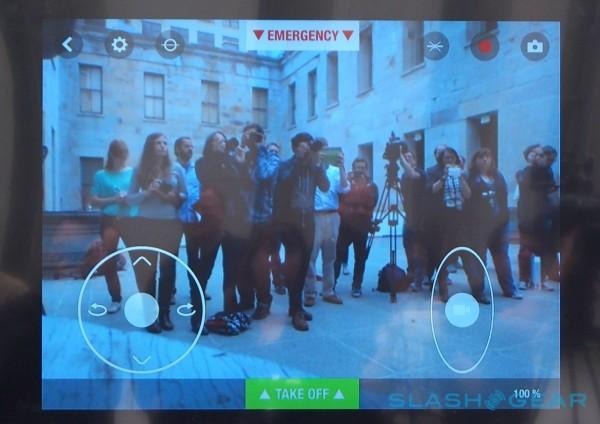 In fact, we found, the system is capable of showing you what's off to either side of the Bebop Drone, without moving at all. Stills and video are stored in JPEG/DNG and MP4 formats, respectively, and the drone shows up as a removable drive when you plug it into your PC or Mac.
That's not the only improvement over the AR.Drone 2. Parrot has fitted it with a GNSS chipset – combining GPS, GLONASS, and GALILEO navigation data – so that it can not only find its way back to where the operator is (using the GPS in their own smartphone) but follow preset flight plans. So, you could have a Bebop Drone fly its way around a race course, filming each of the corners as you expect to be taking them in your weekend hobby car; even the direction the drone should be facing at each point can be preconfigured.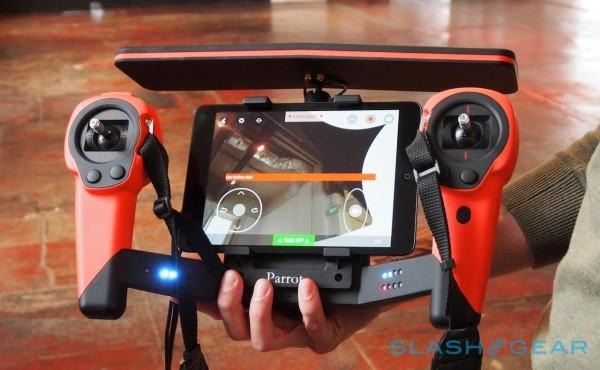 Connectivity between drone and phone/tablet is via a new 4-antenna MIMO WiFi ac system with 2.4GHz and 5GHz support; range is 12 minutes of flying, and if the drone loses the signal it automatically returns home. Inside, there's a 3-axis accelerometer, gyroscope, and magnetometer, along with an ultrasound sensor, pressure sensor, and a vertical camera which tracks the ground.
However, for those particularly ambitious pilots, Parrot will offer the optional Skycontroller, with more familiar remote control sticks along with a mount for a phone or iPad mini-scale tablet, and a high-power WiFi antenna. Parrot tells SlashGear that at 36dBm it's the most powerful wireless system it could use, and still squeeze through US approval. Total range is up to 2km (1.24 miles) while a second WiFi chipset is used to beam back video.
The Skycontroller runs on Android 4.2, and has its own GPS, USB, and HDMI outputs. It's the latter of those which Parrot had hooked up to an Oculus Rift VR headset for SlashGear to test, meaning that rather than trying to watch both the drone and the video feed, you can see directly what the Bebop itself is looking at, including panning the camera around by simply moving your head.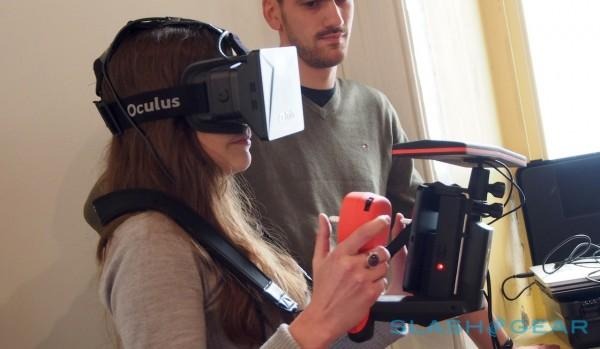 In practice, like the Parrot drones before it, the Bebop Drone is reasonably straightforward to fly, especially compared to traditional R/C helicopters. The onboard smarts – powered by a dualcore ARM A9 chip – handle things like takeoff, landing, and steady hovering themselves, which means you can quickly be spinning the drone around on the spot, or moving it while simultaneously panning the camera around.
There's some lag between the position of the drone and what you see on-screen, however; that's not so much of an issue in regular use – footage is stored locally, at full quality, after all – but did make navigating it while using Oculus a little tricky. More than once we crashed because (in part – some pilot error was probably involved too) the drone was actually further toward walls or other obstacles than the video feed suggested.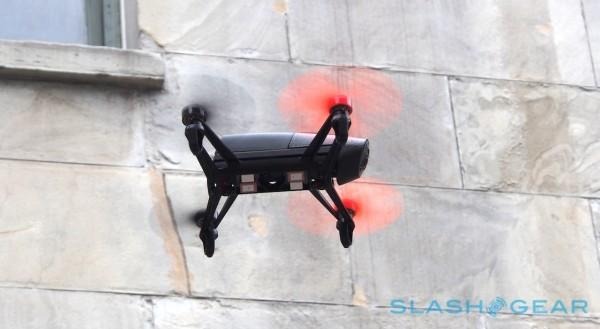 That's probably more of an issue for indoor flight, which is something the Bebop Drone is particularly suited to thanks to its smaller chassis and more compact bumpers. The latter can be unclipped for use outdoors; if any of the four rotors are interrupted, all four stop automatically. It's a tough little craft, too, and even after several crashes the ABS and polycarbonate build was still solid.
In all, it's an impressive entrant to the consumer drone segment, and the video stabilization and panning system Parrot has developed is an intriguing alternative to the moving mounts we've seen on competing models. We weren't allowed to offload the recorded footage from Parrot's prototypes to see exactly how well it works, unfortunately, so we'll have to save the final judgement on quality until the finished drones are ready.
Parrot says the Bebop Drone and the Skycontroller will go on sale in Q4 2014, alongside the existing AR.Drone 2 rather than replacing it. Final pricing has not been confirmed, though a source at the company told SlashGear it was expected to be in the region of 2-3x the existing model, which would put it somewhere in the $600-900 bracket. The Bebop Drone and Skycontroller package is also yet to be priced.