Parrot Asteroid in-car Nav & Entertainment systems revealed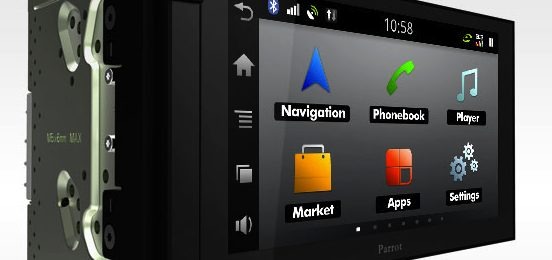 has
of new Asteroid in-car hands-free and navigation systems, the Asteroid CK, Asteroid Nav and Asteroid 2DIN, each offering voice control and more. The Asteroid CK is Android powered, running 2.3.4 Gingerbread on a 3.2-inch TFT display and supporting iPod/iPhone input, three USB ports, SD/SDHC media and line-in, and allows drivers to access apps, web radio – streamed through Bluetooth or USB tethering – and voice-controlled album search.
There's also an integrated 4x45W MOSFET amp, hands-free calling and a pair of line-out connections, along with an included remote control.
The Parrot Asteroid Nav has a larger, 5-inch touchscreen and comes preloaded with navigation software, real-time map updates and various geo-location services and apps. There's also hands-free calling, the same connectivity options for music sources as the Asteroid CK, voice navifation and automatic phonebook sync. USB or Bluetooth tethering can get the Asteroid Nav online, or alternatively there's WiFi. A steering wheel mounted remote is included.
Finally, the Parrot Asteroid 2DIN has a 6.2-inch TFT multitouch touchscreen and does all of what the Asteroid Nav can, adding in reverse camera support, the ability to broadcast video to separate rear-seat displays, and packs more choice for inputs and outputs. There's a video output and a video input, twin audio outputs and a subwoofer output, a line-in and two line-out, along with a remote control.
Parrot is yet to confirm pricing and availability.