Parrot AR.Drone 2.0 Elite Edition Appears In Sand, Snow, And Jungle Colors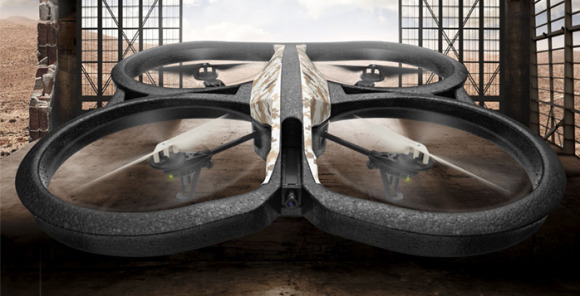 The Parrot AR.Drone 2.0 has been on the scene essentially dominating the press for its unique segment – smartphone-controlled drones – for some time, but until now only in a couple of color combinations. Here in the Fall of 2013, the Parrot AR.Drone 2.0 suits up for hunting season. Three different color combinations are set to be available soon in an "Elite Edition" of the Parrot AR.Drone 2.0 from the folks at Parrot include Sand, Snow, and Jungle.
The newest version of the Parrot AR.Drone 2.0 is largely one of aesthetics. You won't find any additional oddities here making the standard version outdated. As you'll find, this version only solidifies the idea that the AR.Drone 2.0 is still top of the line for what it's best at: flying around controlled by your iPad – or your Nexus 5 – or your NVIDIA SHIELD.
The three color combinations available in this "Elite Edition" are Sand, with shading of brown, beige, and black; Snow, with a mix of gray, white, and black; and Jungle, with shades of khaki and brown. These editions are also coming with different sets of propellers for each edition: beige and black for Sand, khaki and black for Jungle, and white and black for Snow.
Above you'll also find an original Parrot AR.Drone 2.0 in action working with NVIDIA SHIELD. Here you'll find the device piloted remotely using the Parrot AR.Drone app working on Android with the physical controls of NVIDIA SHIELD. Video from all perspectives is recorded concurrently – of SHIELD, of the drone, and from the drone's onboard camera all at once.