Parallels "Switch to Mac" edition bundles app transfer cable

Parallels have released a new virtualization package intended to make first-time transitions to Mac from Windows all the more straightforward.  The Parallels Desktop Switch to Mac Edition consists not only of the company's Parallels Desktop 4.0 app – which allows you to run Windows apps on an OS X machine – but a data migration cable that automatically transfers programs and files to your new machine.
The Transporter cable is basically a branded USB-to-USB file transfer device, such as we've seen before, but is made clever by Parallels' software.  That automatically identifies apps and data on the Windows machine, making sure all the files needed to get you up to speed are present on your shiny new Mac.
They also throw in a full two hours of tutorial video content, intended to make migrating to OS X headache-free.  It's apparently available now, priced at around $100; not bad considering Parallels Desktop 4.0 alone is $79.95.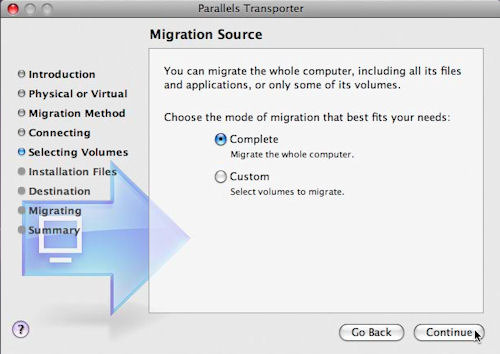 [via Gizmodo]