Pandora iOS app raises game as iTunes Radio arrives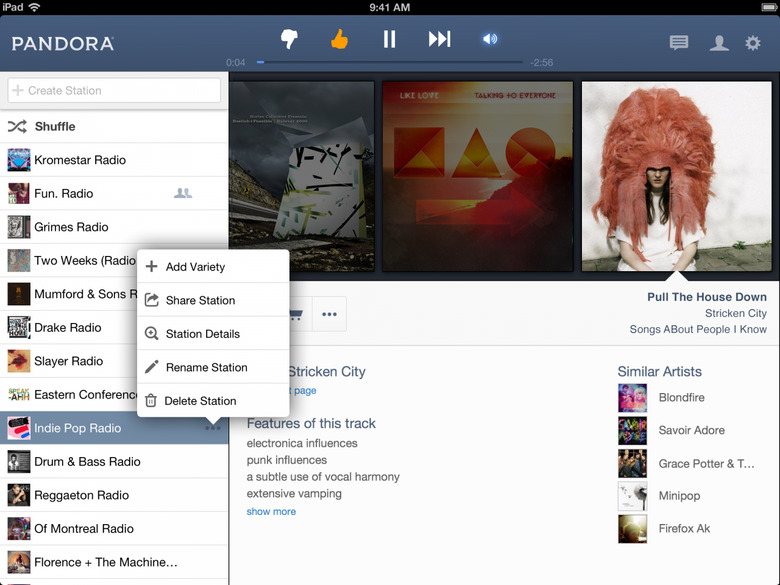 Streaming radio stalwart Pandora has refreshed its iPhone and iPad apps and re-jazzed its branding in the face of Apple competition in iOS 7's new iTunes Radio feature, aiming to pre-emptively shore up against the potential loss of users. Pandora v5.0 includes an aesthetic refresh for iPhone users, bringing the music app more in line with the design of iOS 7 – which we reviewed, along with iTunes Radio specifically, yesterday – while the iPad version gets features its phone sibling has been enjoying for some months.
For instance, there's now more detail as to artist and station suggestions during playback, and Pandora has made it easier to shuffle, rename, and delete existing stations. There's greater integration with iTunes, too, for actually purchasing music that plays through the custom radio stations, with better artist biographies and album information.
Those pages also show improved links to similar artists, and the Pandora algorithm gets more data than before. An updated timeline for each listener gathers up details on which stations they created, which tracks they bookmarked, and their thumb history, and can be optionally made public.
Meanwhile, the Music Feed pulls in all of those public feeds, showing what friends and other Pandora users are playing. Facebook and Twitter sharing is also supported, while the Pandora branding gets a new logo and app icon.
The stakes are high for Pandora. iTunes Radio effectively does much of what it has been doing for some years, offering customizable streaming playlists that are built around an initial seed artist, track, or musical style.
Apple will include ad-supported iTunes Radio playback for every iOS 7 user, with iTunes Match subscribers skipping the commercials.
iTunes Radio will be included in the iOS 7 update hitting iPhone, iPad, and iPod touch owners today, as well as preloaded on the new iPhone 5s and iPhone 5c.