Pandigital Photo Mail LED Digital Photo Frame gets 3G image downloads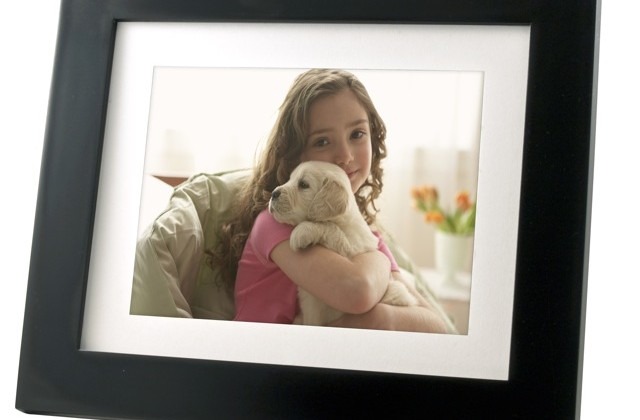 Late into 2009 we upgraded our criteria for digital photo frames that want to avoid SlashGear scorn.  No longer is WiFi enough, to be taken seriously such displays must offer something more impressive – like integrated 3G – if they want to be lauded.  Happily Pandigital's Photo Mail LED Digital Photo Frame has enough spec-sheet positives to encourage us to overlook that dire name (and the equally dire press shots): it packs an 8-inch 800 x 600 LED-backlit display and AT&T wireless for WiFi-free downloads.
Rather than charging you a monthly subscription, Pandigital use a pay-as-you-go type of system.  The frame comes with a 300 photo download allowance, and after that you simply buy another block of downloads from Pandigital's site.  To help you make the most of that allowance you can accept or reject images before downloading them; each frame has a unique email address powered by HP's Snapfish service.
The frame has 1GB of internal storage together with a 6-in-1 memory card reader, and can play AVI video and MP3 audio (though not receive them via 3G); unfortunately it doesn't have WiFi, but given the target market that's probably no great issue.  What we can't quite figure out is how much extra download bundles cost, since there's no mention of it in Pandigital's press release.  The Pandigital Photo Mail LED frame itself will land later in 2010, priced at $149.99.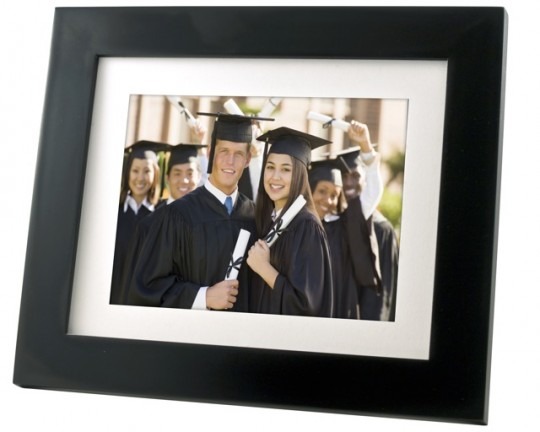 Press Release:
Pandigital Debuts Photo Mail LED Digital Photo Frame Powered by AT&T
Digital photo frame lets family and friends conveniently email photos to it; Sets new standard in digital photo sharing

Dublin, Calif., Jan. 6, 2010 – Pandigital today debuts the Pandigital Photo Mail LED Digital Photo Frame – a next-generation, wirelessly connected digital photo frame that conveniently accepts photos emailed from family and friends. The frame will connect through AT&T's* wireless network and is expected to be available early this year.

"Consumers want a convenient, reliable way to share and enjoy photos with friends and family," said Dean Finnegan, CEO and founder, Pandigital. "We're enabling consumers to do just that with the Pandigital Photo Mail LED Digital Photo Frame. For the first time, it's unbelievably simple and affordable to share and enjoy digital images via email to a digital photo frame."

The new Pandigital Photo Mail LED Digital Photo Frame is incredibly simple to use. Each frame has its own dedicated email address powered by Snapfish by HP. Customers can share that address with family and friends so they can send photos directly to the frame from their own email account – whether it's from a computer or wireless device.

Upon receiving new photos via email, the recipient can quickly accept and view them. In an instant, consumers can enjoy photos taken by friends, family or even themselves, without leaving their home.

"Pandigital's Photo Mail LED Digital Photo Frame ushers in a new era of how consumers will share and enjoy digital images," said Glenn Lurie, president, emerging devices, resale and partnerships, AT&T Mobility. "Delivering photos to this frame is as easy as sending an email. Paired with AT&T's network, photo sharing becomes a very connected and convenient way to stay close to friends and family."

Affordably Priced

The Pandigital Photo Mail LED Digital Photo Frame is affordably priced at a Manufacturer's Suggested Retail Price of $149.99. The price of the frame includes the ability to receive 300 photos emailed to the frame with no service fee to the customer. Additional photo allotments may be purchased directly from Pandigital.

Easy Way to Enjoy Digital Images

Photos shared through the device will also be available through an album at Snapfish.com, where people can easily preserve, enjoy and share their most valuable memories, order professionally- developed photos for as low as 9 cents a print, or create more than 100 customizable photo gifts such as books, calendars and more.

High-end Features in New Pandigital Connected Digital Photo Frame

The Pandigital Photo Mail LED Digital Photo Frame is a full-featured digital photo frame with a large 8-inch back-lit LED display in 800x600 resolution, so photos are crisp and clear. The 4:3 aspect ratio preserves the original format of the photos, ensuring that they are not stretched or cropped. Plus, with a full 1GB of internal memory and Pandigital's memory optimization mode, consumers can enjoy up to 6400 images on the display.

The Pandigital Photo Mail LED Digital Photo Frame can also be loaded with photos in more traditional ways – namely via its 6-in-1 media card reader (Compact Flash, SC, XD, MS, MSPro and MMC) or via a direct connection to a computer or digital camera. Images can be rotated and resized, and brightness and color settings can be changed. The Pandigital Photo Mail LED Digital Photo Frame also can play back AVI video clips and MP3 music files.

The Pandigital 8-inch Photo Mail LED Digital Photo Frame has many additional useful features, such as calendar, clock and alarm functions. Additionally, it can be programmed with specific on/off times so the frame will not use power unnecessarily.

As with all Pandigital digital photo frames, the Pandigital 8-inch Photo Mail LED Digital Photo Frame was designed to look great in the home or office. It features a real wood frame, photo matting and a glass screen cover. As a result, it blends perfectly with additional frames in the home.

*AT&T products and services are provided or offered by subsidiaries and affiliates of AT&T Inc. under the AT&T brand and not by AT&T Inc.