Pandigital Novel ereader packs B&N eBookstore access, Android & WiFi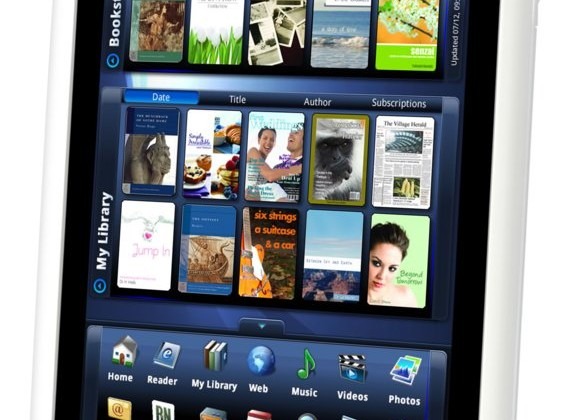 Pandigital may be better known on these pages for their digital photo frames, but the company have another use for a 7-inch LCD: an ereader.  The Pandigital Novel eschews E Ink for a full color touchscreen LCD display, Android OS and WiFi b/g/n, the latter being used for wireless connection to Barnes & Noble's eBookstore.
That means support not only for purchasing ebooks, newspapers and magazines, but use of B&N's LendMe functionality that allows readers to share texts for up to 14 days.  LendMe will work with B&N's PC/Mac ereader clients and, we're presuming, the company's own nook ereader.  Meanwhile there's also multimedia support, including MP3, AAC and WAV audio, JPEG, BMP, PNG and GIF images and MPEG4 video; content can be saved to the 1GB of internal memory or to an SD or MMC memory card.
Battery life is tipped at up to six hours from a full charge, and there's an orientation sensor for page-flips, integrated desk stand and a 2.5mm headphone socket.  The whole thing measures in at 5.5 x 7.5 x 0.5 inches and weighs 16oz.
Pandigital expect the Novel to go on sale in June 2010, priced at $199.99.
Press Release:
Pandigital Novel eReader Premieres; First Model Sports 7-inch Color Multimedia Display

Integrated Barnes & Noble eBookstore gives customers access to shop and enjoy eBooks, magazines and newspapers conveniently and instantly; Touch-screen design, built-in Wi-Fi provide on-the-go enjoyment

May 24, 2010 08:03 AM Eastern Daylight Time

DUBLIN, Calif.–(EON: Enhanced Online News)–Pandigital, the U.S. leader in digital photo frames, today enters the eReader market with its first offering: the Pandigital Novel, a 7-inch eReader with integrated Barnes & Noble eBookstore, full color touch-screen display, Wi-Fi connectivity, and multimedia capabilities that make it the ideal travel companion.

"First and foremost, the Pandigital Novel eReader was designed to deliver a world-class e-reading experience"

Pandigital has partnered with Barnes & Noble, Inc. (NYSE: BKS), the world's largest bookseller, to power the eBookstore on the Pandigital Novel eReader. Pandigital Novel customers will have easy access to Barnes & Noble's expansive eBookstore catalog of more than one million eBooks, newspapers and magazines, a wide variety of free eBooks and more than half a million free classics. Seamlessly integrated into the Pandigital Novel interface, users will find that it is incredibly convenient and simple to browse, sample, buy, download in seconds and access digital content from the Barnes & Noble eBookstore, as well as from their personal Barnes & Noble digital library. Pandigital Novel customers will also be able to take advantage of advanced features including Barnes & Noble's breakthrough LendMe™ technology which allows users to share many eBooks with friends and family for 14 days.

The Pandigital Novel 7-inch Color Multimedia eReader has a vibrant full color TFT LCD display that lets reading enthusiasts enjoy books and periodicals displayed in personalized bookshelves with full-color book covers and original color photos. The full-color 800 x 600 resolution and edge-to-edge glass screen also lets Pandigital customers thoroughly enjoy their digital photos in a virtual album as well as watch video on the go. The responsive touch-screen paired with an intuitive user interface is easy to navigate and control, so moving through applications, finding great digital content in the Barnes & Noble eBookstore, and browsing the web are all incredibly straightforward.

"First and foremost, the Pandigital Novel eReader was designed to deliver a world-class e-reading experience," said Dean Finnegan, CEO and founder, Pandigital. "By focusing on delivering superior content from Barnes & Noble, an easy-to-use design and an excellent customer experience, Pandigital is delivering a value proposition not currently available in the eReader category. With its many additional features, Pandigital Novel customers will be able to read what they want and do more of what they want on the go with an affordable product that is simple and fun to use."

"We're proud to offer Pandigital Novel customers simple and integrated access to our vast Barnes & Noble eBookstore to help them discover and enjoy a wide array of eBooks and periodicals," said Chris Peifer, Vice President of Business Development, Barnes & Noble.com. "Pandigital Novel users can easily access their existing Barnes & Noble digital content and enjoy sharing a wide variety of eBooks with friends through innovative LendMe technology – whether or not those friends have a dedicated eBook reader."

Reading – Just More Fun

Designed with convenience features that help reading enthusiasts get the most out of their eBooks and periodicals, the Pandigital Novel lets customers, with a simple touch of the screen, search for word meanings using the built-in dictionary, review past references with word searches, and make notes with the virtual keyboard. In addition, customers can highlight important text, create multiple bookmarks, and change the font size for optimum viewing.

The Pandigital Novel 7-inch Color Multimedia eReader was designed to be enjoyed on the go; it features a compact, sleek design that measures 5.5" (w) x 7.5" (h) x 0.5" (d) and weighs only 16 ounces. Saving, storing, and transferring unlimited eBooks (as well as music, video, or image files) is easy with the full 1GB of memory that can house hundreds of books, as well as expandable storage provided by its SD/MMC memory card slot (supporting up to 32GB cards). Also, the Pandigital Novel provides a long battery life of up to six hours in reading mode thanks to its rechargeable lithium-ion battery.

Other usability features make it more convenient for reading in a range of environments. For example, the orientation sensor automatically adjusts between portrait and landscape mode when the device is tilted, while night-read mode inverts the text and background colors for more discrete viewing. Plus, the Pandigital Novel looks great in the home and on the go; it has a white chassis with a white stand for secure placement on a desk or table.

The new Pandigital Novel eReader supports a number of eBook formats including PDF, EPUB, and HTML, so customers that already have their own personal collection can still enjoy them. The built-in mini-USB port provides another option for easy transfer of files between the device and a computer (Mac and PC compatible).

Incredibly Useful All-in-One Device for Fun & Connectivity

The Pandigital Novel 7-inch Color Multimedia eReader lets consumers enjoy their favorite music, photos, and video wherever they go. When connected to the Internet utilizing the built-in Wi-Fi module and any home or public Wi-Fi hotspot, the Pandigital Novel also lets customers run a variety of connected applications. Using the powerful and flexible combination of the Android operating system and an ARM 11 Mobile processor, this Pandigital Novel has a built-in, full web browser so users can quickly go online to update social media sites and check out recent news, events and weather. The built-in email application lets customers conveniently stay in touch. Photo and video files are rich in color and detail, while the built-in audio player lets consumers enjoy their music from virtually anywhere. The Pandigital Novel 7-inch Color Multimedia eReader also has additional convenience features including a built-in appointment calendar and alarm clock.

Availability, Price and Warranty

The Pandigital Novel 7-inch Color Multimedia eReader (model number PRD07T10WWH7) is affordably priced at a Manufacturer's Suggested Retail Price of $199.99 and is backed by a one year limited warranty. It will be available at several national retailers beginning in June.