Pandigital 9" Novel ereader/Android tablet hits FCC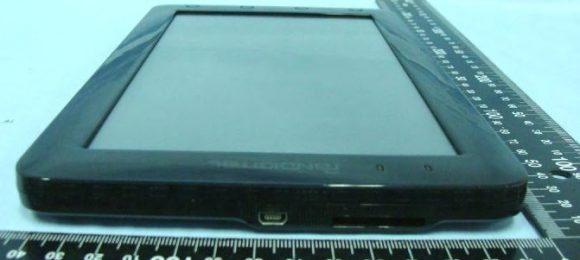 Pandigital's new 9-inch Novel tablet has cleared the FCC, complete with plenty of photos and the user manual.  As with the existing, 7-inch Novel slate, the new larger version has a stylus and comes with integrated Barnes & Noble ebook store access and WiFi.  There are also SD card, miniUSB and headphone ports, and a light sensor.
It's also running Android – we're guessing version 1.5 given that's what the smaller Novel uses, together with Pandigital's custom ereader interface – and we're presuming a resistive rather than capacitive touchscreen so as to keep the costs down.  There's EPUB and PDF document support, along with the Android Facebook app, a media player, browser and email.
Despite the larger display it seems likely that Pandigital will be pushing for a low price on the new 9-inch Novel.  Interestingly, there are a few screenshots in the user manual that show the basic Android UI, which implies Pandigital hasn't attempted to lock down the slate as much as with its predecessor.
[via The Digital Reader]