Panasonic upgrade Toughbook rugged laptop & tablet range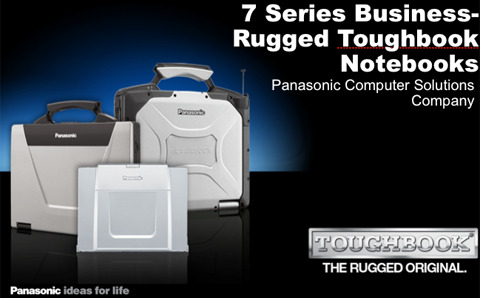 If rugged, hard-wearing portable computing is your interest, Panasonic's range of Toughbook notebooks probably has your admiration. Their 7 Series models, announced today, continue the tradition of drop, spill, compression and electrostatic resistant chassis with updated hardware: now you can take a 1.60GHz Intel Core 2 Duo powered machine and be comfortable dropping it 2.5 feet onto the floor.
Three models make up the 7 Series Toughbook range: the Y7, a thin-and-light 3.7lb notebook with 14.1-inch display and the highest computing specs of the bunch; the W7, its ultraportable sibling which sheds 0.7lbs and has a 12.1-inch TFT; and the T7, which has a 12.1-inch touchscreen. All three are based around Intel's U7500 CPU, the Y7 having a 1.60GHz processor while the W7 and T7 have 1.06GHz, and are supplied with 1GB of RAM (expandable to 2GB). Both the Y7 and W7 have DVD Multi-Drives, and all three have SD slots; networking is a combination of standard a/b/g WiFi, Bluetooth 2.0 and optional WWAN in the form of EV-DO or HSDPA. There's also the Trusted Platform Module (TPM) 1.2 across the range, and optional biometric fingerprint security.
Of course, the specifications of each Toughbook is only part of the story: users are buying them for their resilience rather than their bleeding-edge functionality. Magnesium alloy casings and chassis, shock-mounted hard-drives and LCDs and flexible internal connections (such as to the motherboard) all add up to laptops capable of withstanding relatively extreme conditions.
Pleasingly, though, there's still room in there for decent batteries; up to 5, 7 and 8 hours for the Y7, W7 and T7 respectively. At the end of the day, though, it's the – in some cases military standard – toughness that'll sell the 7 Series. Each can survive 6.7-oz of liquid spilled directly onto the laptop, each can be squashed by up to 220lbs in weight, and should you be trekking through an electrical storm they'll happily survive 8Kv of air-borne electrostatic discharge. Screen hinges are flexed over 50,000 test cycles, while the keyboard is similarly battered.
If all else fails, Panasonic are hoping their 3-year standard warranty and lifetime call center support will sweeten the deal and put your mind at rest; you can also practice your foreign language skills, as you can contact their US-based team from over 150 countries. The warranty covers free air shipping and priority parts exchange, so hopefully you won't be left in the jungle without a laptop for too long.
The Panasonic 7 Series Toughbook range goes on sale with the range starting from $2100