Panasonic Toughpad FZ-B2 gets a substantial refresh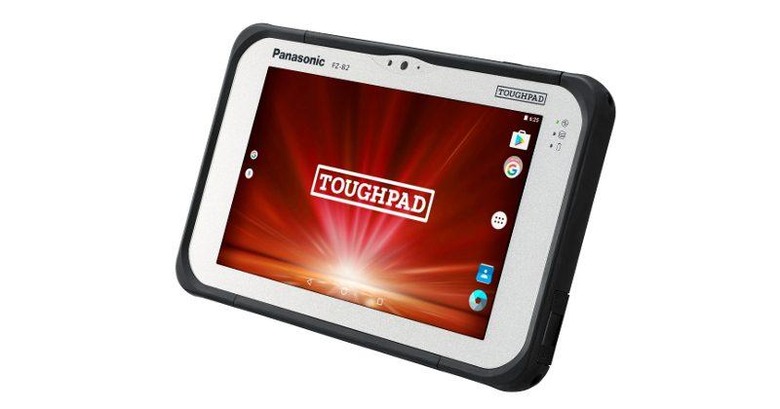 It's been nearly two years since Panasonic announced the rugged 7.0-inch Toughpad FZ-B2 tablet. Usually, that is a signal for manufacturers to retire the model and prepare for a new one. Rather uncharacteristically, Panasonic is sticking to its FZ-B2 guns and is instead giving it what is has described a "stunning makeover". That might be a bit of a misnomer though, as the new FZ-B2 looks almost exactly the same as the old FZ-B2. Inside, however, Panasonic has indeed let loose some big changes that would perhaps warrant calling this an FZ-B3.
For starters, the CPU has been upgraded from 2014's Celeron N2930 (1.83 to 2.16 GHz) to an Intel Atom x5-Z8550 with a 2 MB cache and running from 1.44 GHz to 2.4 GHz. Sure, Intel has just recently retired the Atom brand, but this chip, like this tablet, is built to last. Aside from the speed bump, the more efficient processor also offers some more battery life. Another significant change is the switch to a USB Type-C port and all the benefits that it brings, both in charging as well as faster data transfer speeds. One note, however, is that this port doesn't support the USB Power Delivery spec for fast charging.
Aside from those core feature changes, there are also a few minor upgrades. The rear camera, for example, now goes up to 8 megapixels while the front one now supports Full HD video chats. Which is to say it's somewhere around 2 megapixels. Wi-Fi is also no problem with its dual-band AC 8260 technology. There is also the latest Android 6.0 inside, complete with Android for Work. This is augmented by pre-installed software for IT administrators.
Despite those upgrades, the Toughpad FZ-B2 really remains the Toughpad FZ-B2. That includes the 7.0-inch 10-point multi-touch screen that boasts of outdoor visibility and usability with gloves. The tablet is still built to last, both in terms of rough handling and extreme working conditions, as well as the hot swappable battery, not to mention that battery extension that can push life from 8 hours to 16. There are also customization options where customers can add a barcode reader, smartcard reader, or even 4G connectivity.
The tablet goes on sale end of June with a price tag of 664 GBP, roughly $962. It's definitely an insane prie but, of coures, the new Panasonic Toughpad FZ-B2 is intended for business and industry uses rather than commercial ones.