Panasonic Toughpad 4K UT-MB4 tablet to launch in US in January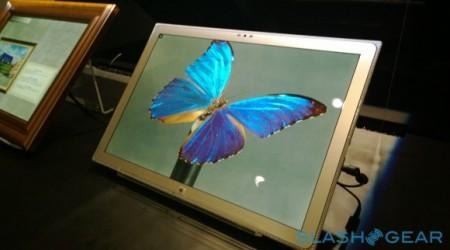 This year at IFA 2013, we got our hands on Panasonic's Toughpad 4k UT-MB4, the world's first 20-inch 4K tablet. With this massive slate comes a resolution of 3840 x 2560 pixels and an IPS Alpha LCD, as well as Windows 8.1 and the durability that comes with the Toughpad designation. Fast-forward a couple months, and now we know pricing and availability.
Beyond the display, which is the tablet's biggest bragging point, the Toughpad 4K features an Intel Core i5-3437U vPro processor and graphics by way of an NVIDIA GeForce 745M GPU. Memory comes in at 8GB, VRAM is 2GB, and storage is on a substantial 256GB SSD. The camera is better than what you'd find on many similar tablets, offering 1280 x 720 resolution on the front of the device.
Connectivity includes Bluetooth 4.0 Class 1, USB 3.0, Wi-Fi a/b/g/b, a smart card reader, docking connector, and an SDXC card slot. Durability includes protection against drops from 12-inches and 26 different angles when not operating, and 30-inch drops to its back when in use. The battery is where the device suffers, offering only 2 hours on a charge.
The tablet will be available in January 2014 for $5,999 USD.
Said Panasonic's Rance Poehler: "In our highly connected and visual world, having access to the best quality, most detailed visual information available can be a critical component of success in many fields. By delivering an unsurpassed level of image quality, running on an Intel vPro processor and using Microsoft's most advanced operating system, the Toughpad 4K UT-MB5 tablet allows decision makers in various visual fields to view, share, manage, and interpret information to drive their innovation."
SOURCE: Business Wire