Panasonic Toughbook CF-AX2 hands-on: Extreme Yoga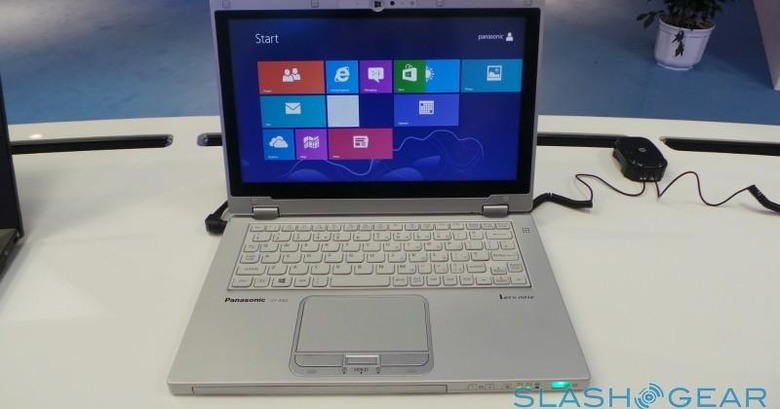 Windows 8's finger-focus has spawned some interesting form-factors, and following in the footsteps of Lenovo's IdeaPad Yoga comes the Panasonic Toughbook CF-AX2, a rugged twist on the 360-degree hinge concept we've been playing with here at CeBIT 2013. A compact 11.6-incher with a 1366 x 768 10-finger multitouch display, the CF-AX2 runs Intel's latest Core i5 processor for lengthy runtimes – Panasonic claims up to eight hours on a single charge – and, thanks to some hot-swappable battery magic, allows you to switch out for a new power pack without shutting down.
That's because there's a smaller, internal battery inside the Toughbook's compact footprint, which tides the CF-AX2 over while you drop out the first pack and slot in a second one. It's a factor that will make the Toughbook particularly appealing to Panasonic's target audience: mobile professionals who'll also appreciate the drop and bump resilience.
Inside, there's a Core i5 3427U processor and Intel HD 4000 graphics, and Panasonic has managed to accommodate no small number of ports despite the size. You get VGA, HDMI, two USB 3.0, ethernet, audio in/out, and an SD card reader, as well as the usual WiFi and Bluetooth (with a discrete switch to turn the wireless off).
The touchscreen is bright and responsive, and has a welcome matte finish for anti-glare purposes. It was certainly capable of holding up to the CeBIT show floor lights, which bodes well for outdoor use. Next to the webcam is a physical Windows button for use when you fold the CF-AX2 back into tablet mode (though it's worth noting that it leaves the keyboard and trackpad exposed on the opposite side, the same issue as with the Yoga. The chassis is also somewhat plasticky, at odds with the ruggedized finish.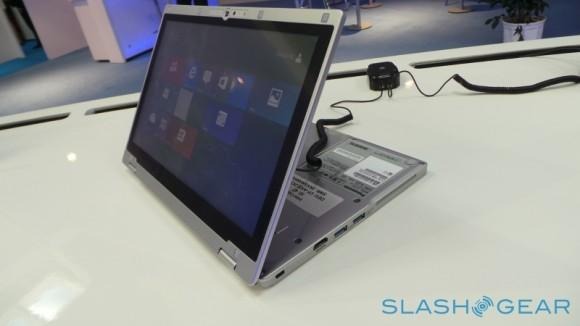 Panasonic is already offering the Toughbook CF-AX2 in Japan, with European sales kicking off this quarter.