Panasonic Toughbook 20 is world's first rugged, detachable 2-in-1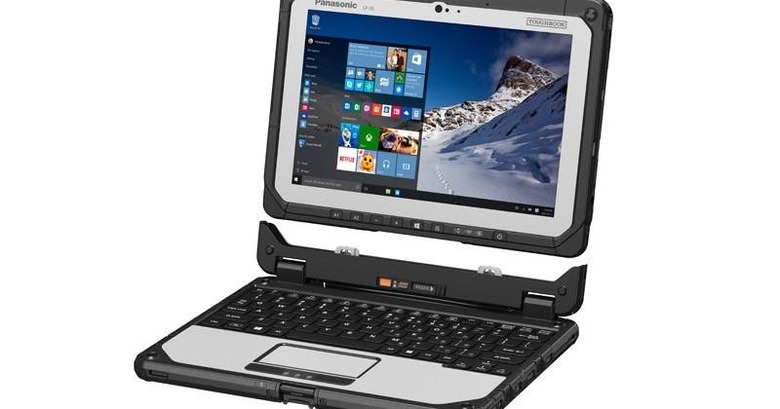 There are Windows 2-in-1 PCs that morph between tablet and laptop for configurability and there are Windows tablets or laptops that can stand the test of time, the elements, and work hazards. Wouldn't be nice if you could have the best of both worlds at work? Good thing Panasonic thinks so, too. That's why one of world's leaders in rugged computing devices has produced the Toughbook 20, touted to be the world's first detachable 2-in-1 tablet/laptop hybrid that also happens to be tough as nails.
Panasonic has been putting out rugged laptops, tablets, and smartphones for almost like forever but recently it has been announcing rugged Windows devices that seem to defy preconceived notions of what rugged devices usually imply. Like the Toughpad 4K FZ-Y1 that puts a 20-inch 4K display, a very premium spec, on a slab that's designed to survive tumbles, falls, and dips.
And now it's breaking convention it again with a rugged detachable hybrid, a form factor that doesn't always inspire sturdiness and survivability. Despite that, the Toughpad 20 boasts of MIL-STD-810G rating, promised to withstand shocks, rain, vibration, dust, sand, and extreme temperatures, just to name a few. It also has an IP65 score, not exactly the highest in terms of water proofing.
Rugged devices are usually expected to carry mid to low range specs, with most of the build costs spent on durability features. The Toughbook 20, however, is an exception. The Intel Core m5-6757 might not be a Core i chip, but it does run at 1.1 GHz to 2.8 GHz. The laptop also has 8 GB of RAM and a 128 GB SSD which can be upgraded to 256 or 512 GB. The 10.1-inch 1920x1200 touch screen can optionally come with a digitizer for stylus input. A 2,600 mAh battery on the tablet part is standard, but an optional battery on the keyboard dock can be added for emergency power.
In terms of design, the Panasonic Toughbook 20 is as you would expect, with an industrial aesthetic that speaks of its primary use case. Curiously, the keyboard half has a carrying handle that also doubles as a kickstand, as if the keyboard dock weren't enough to do that. The laptop can also be laid out flat, like a half YOGA. The whole setup weight only 3.9 lbs. To put that into context, that is just a bit heavier than a 13-inch MacBook Pro Retina at 3.48 lbs and twice as heavy as a Surface Pro 4 at 1.9 lbs.
All that, however, will come with a high price. $3,099 to be exact. It will be available February next year.
SOURCE: Panasonic
VIA: Microsoft-News