Panasonic Toughpad 4K FZ-Y1 breaks rugged conventions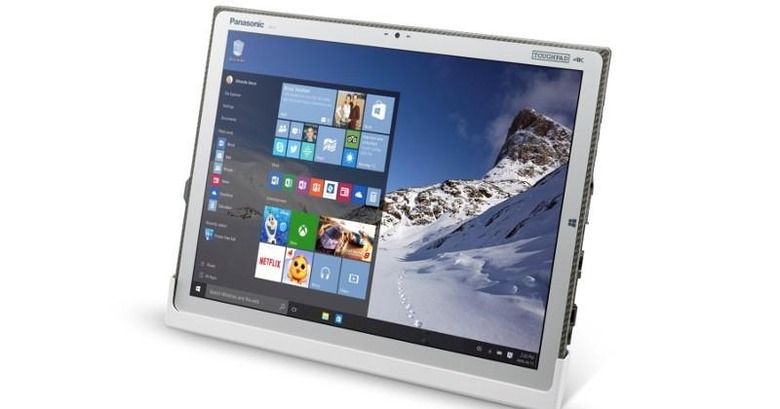 Rugged devices are traditional tough on the outside but more often than not weak on the inside, with specs that are usually standard for the past year or two. Many of Panasonic's own Toughpad devices, both tablets and phones, fall under that stereotype. The new FZ-Y1 Windows 10 tablet, or table-let practically, is a rare exception. It boasts of rather high end specs, including a 20-inch 4K screen, but at the same manages to be tough enough to survive the field and an occasional, accidental drop.
It's not the latest Intel processor, but at least the Intel Core i7-5600U vPro running inside is just one generation behind. When paired with up to 16 GB of RAM and 256 or 512 GB of storage, not to mention a AMD FirePro M5100 dedicated graphics chip, then you've got quite a formidable workhorse. And if you thought the Samsung Galaxy View's 18-inch screen was ridiculously huge, it has nothing on this 20-inch display boasting 3840x2560 pixels. Well, at least it's not as ridiculously huge as the 27-inch Lenovo YOGA Home.
The size, however, isn't based on a mere whim. Everything about the Toughpad FZ-Y1 was made with work in mind, particularly in industry and engineering spaces. The display's 15:10 resolution, for example, was made for viewing plans and designs that come in A3 paper sizes. The optional desktop cradle transforms into a tilted stand, transforming the tablet into a drawing or drafting device.
This Panasonic Toughpad also bears some unique features you'd be hard pressed to find elsewhere. For example, it has an HDMI 2.0 input port. Yes, input, not output. This means that large 4K screen can become a second external monitor in a snap. There is also an optional Electronic Touch Pen that doesn't work like your conventional active stylus. It uses infrared to read the pixels underneath the pen's tip, which the pen communicates to the tablet via Bluetooth. Panasonic claims this makes it more accurate than any other solution in the market, a claim that the likes of Wacom will likely dispute.
Despite all those fancy features, the Toughpad is, of course, tough, mounted on a magnesium frame and enclosed in a glass fiber case. All of that, however, will cost you plenty. Available starting December, the Panasonic Toughpad 4K FZ-Y1 goes for 3,180 GBP, roughly $4,800. This is definitely the type of device you might not buy yourself but convince your boss to purchase for work.