Panasonic ToughBook 19/30's upgrades now available for US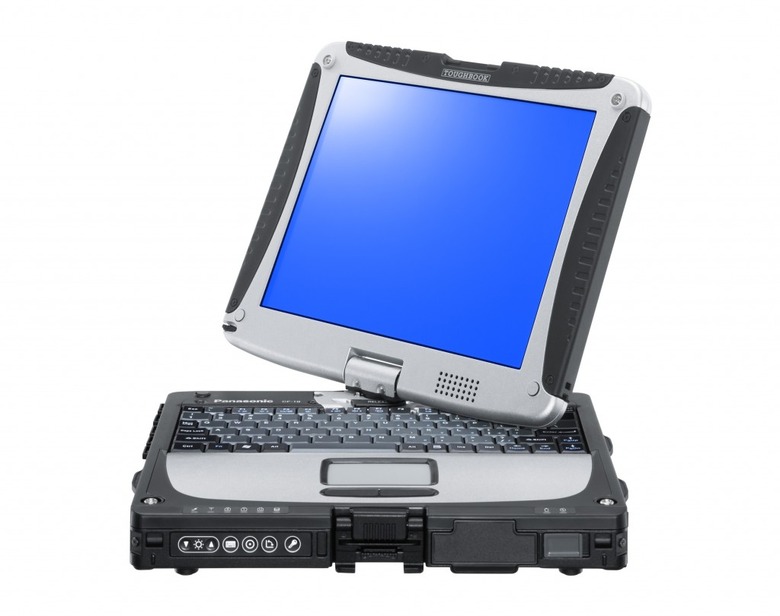 Last week we reported couple of upgraded Toughbook CF19 and CF-30 were spotted at Panasonic, Japanese site. Today, announcement of similar units are made available for US consumers. As reported, both models are now sharing an ultra high luminance 1000 nit LCDs (previously not available for CF-19), and have gotten better anti-glare and anti-reflective treatments, with circular polarization technology incorporated into the screen to improve outdoor usages, and many hardware updates that worth the wait.
Both Toughbooks are also getting hardware updates with the Intel Centrino 2 vPro technology, offers larger memory capabilities, 40 percent longer battery life and larger hard drives with optional 320GB of SSD drive. A new security feature was introduced by Panasonic, the "conceled mode" when push, can kill all lights on the machine instantly.
The 13-inch Toughbook 30 is available at an estimated street price starting at $3,649 while the convertible tablet 19 has an estimated street price starting at $3,749. The manufacturer is now offering new financing terms which include fair market value leases, deferral programs, lease back financing and step payments.
Panasonic Toughbook 30 Clamshell Laptop: Select Features and Specifications

Intel® Core™ 2 Duo SL9300 1.6GHz
Intel® Centrino® 2 with vPro™ technology
6MB L2 Cache
1066 MHz FSB
2-4GB DDR2 RAM (667 MHz)
Intel® GS45 (GMA 4500MHD) video adapter
13.3" display
Circular polarization, anti-glare and anti-reflective screen treatments
9 to 1000 nit LCD brightness (touchscreen model)
Concealed Mode
Intel Wireless WiFi Link 5100
802.11 a/b/g/draft-n
Gobi 3G Global Mobile Internet (HSPA, EV-DO Rev. A)
160GB SATA (shock-mounted & quick-release) hard drive
Optional 32GB SSD
Up to 10 hour battery life (14 hours including optional 2nd battery)

Panasonic Toughbook 19 Convertible Tablet PC: Select Features and Specifications

Intel® Core™ 2 Duo SL9300 1.2GHz
Intel® Centrino® 2 with vPro™ technology
3MB L2 Cache
800 MHz FSB
2-4GB DDR2 RAM (667 MHz)
10.4" LED backlit display
Circular polarization
4 to 1000 nit LCD brightness (touchscreen model)
Concealed Mode
Intel Wireless WiFi Link 5100
802.11 a/b/g/draft-n
Gobi 3G Global Mobile Internet (HSPA, EV-DO Rev. A)
160GB SATA (shock-mounted & quick-release) hard drive
Optional 32GB SSD
Up to 10 hour battery life