Panasonic updates its fully-rugged ToughBook CF-19 and CF-30 in Japan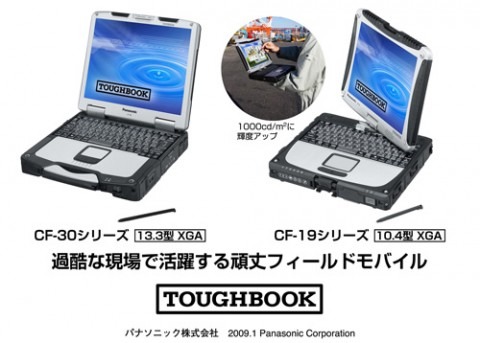 Panasonic has updated its fully rugged series Toughbook CF-19 and CF-30 in Japan today, with extended battery life, increased onbroad memory and lower reflective screen costing to improve brightness. Both models now come standard with 2GB of memory, 160GB of storage space, and have the same screen brightness rating of 1000 nits, Wifi Link 5100AGN and Bluetooth feature.
The much compact and convertible tablet PC CF-19 featured an 10.4-inch XGA panel, upgraded LED-backlit LCD with twice the brightness from previous model; boasted a 1000 nits of brightness display and a Core 2 Duo SU9300 at 1.2GHz speed.
The larger 13.3-inch CF-30, on the other hand, featured a new circular polarizing film to reduce reflectivity, and improve its usage in direct sunlight environment. It has a Core 2 Duo SL9300 processor runs at 1.6GHz speed.
Panasonic will ship both models by February 13 for Japan market. No words on Pricing information, or other countries releases out of Japan.
[Panasonic via Akihabaranews]