Panasonic SC-BT100 Blu-ray 1080p home cinema system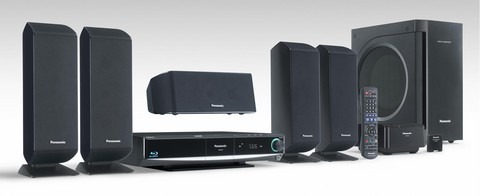 Panasonic have announced a new home cinema system offering 1080p Blu-ray playback and digital surround sound. The SC-BT100 supports the latest Blu-ray Final Standard Profile, has an iPod dock, and comes with out-of-the-box 5.1 surround; that can be easily upgraded to 7.1 with the addition of two wireless side speakers. It also appears to have, going by this press photo at least, a magic center speaker that defies gravity.
Thanks to the iPod dock audio and video media on the PMP can be played back through the SC-BT100 and controlled via its remote. It also has an SD slot for images or video footage in standard or High Definition AVCHD format. Sound formats supported include Dolby Digital, Dolby Digital Plus, Dolby True HD, DTS-HD, DTS-HD High Resolution, DTS-HD Master Audio and Linear PCM.
Partner the system with a Panasonic HDTV and it'll use the Viera Link standard to control all the components from a single remote. Alternatively hook up any display via HDMI. The SC-BT100 will be available in late Spring for an estimated price of $999.95
[via Krunker]