Panasonic prices LUMIX FH7, new Xactis, HD camcorders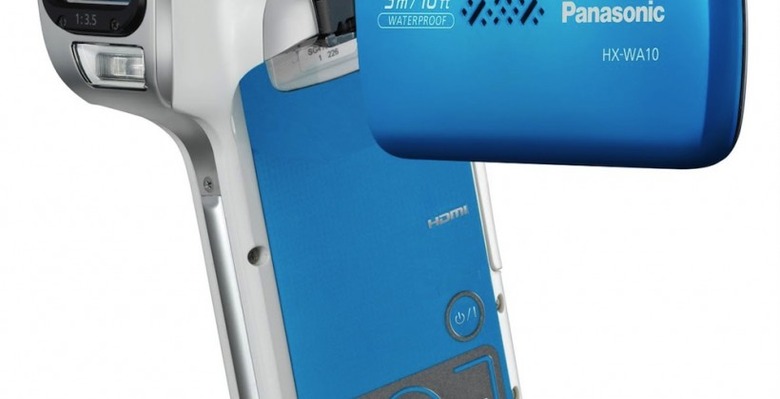 Panasonic has confirmed pricing details for its latest digital camera and camcorder range, including the LUMIX FH7 with the company's bizarre Beauty Retouch mode that allows you to make anybody look like Dame Barbara Cartland. The FH7 will be $179.99 when it lands early in July, while the five new camcorders are priced from $169.99.
Cheapest is the HM-TA2, at $169.99, with Full HD MPEG-4 AVC recording, a 3-inch touchscreen, Night View Mode, integrated USB plug and webcam mode. The HMT-TA20 is $199.99, and adds 10 ft waterproofing, 5 ft drop resilience and dust protection.
Then there's the HX-WA10, a $349.99 Xacti-style camcorder – which we've seen before, but with a higher price – that offers Full HD video, 10 ft waterproofing, 16-megapixel stills (or 2-megapixel stills while simultaneously recording video) and a 5x optical zoom. The $279.99 HX-DC10 has the same core specs but is not waterproof, while the $199.99 HX-DC1 shoots 14-megapixel stills.
The WA10 and DC10 both have Backside Illumination sensors for improved low-light performance. All five will go on sale in July 2011.
Press Release:
PANASONIC ANNOUCES PRICING FOR ITS NEWEST STYLISH DIGITAL CAMERA FEATURING BEAUTY RETOUCH, THE LUMIX FH7

SECAUCUS, NJ (June 9, 2011) – Panasonic today announces pricing for its new 16.1-megapixel digital camera, the LUMIX DMC–FH7, which will be available in early-July 2011 for a suggested retail price of $179.99. The LUMIX FH7, available in black, features an incredibly slim and stylish design, making this new digital camera easy to carry, and with intuitive touch-controls via a 3-inch Smart Touch Screen, it is also easy to use.

The LUMIX FH7's Smart Touch Screen allows users to enable Touch Auto Focus (AF), Touch Zoom, Touch Shutter and Intelligent Scene Selector simply by touching the screen. The LUMIX FH7 also features three modes that gives users creative control by manually (with a touch of a finger) editing their photos on the digital camera. These modes include: Beauty Retouch – allows users to retouch faces; Esthetic – creates effects on faces such as clearing skin texture and whitening teeth and Makeup – gives color options such as foundation, eye-shadow or coloring for the lips and cheeks.

While the LUMIX FH7 is a stylish standout, it does not compromise on performance. It features Leica DC lenses with an impressive 4x optical zoom, High Definition video recording-capabilities that record 1280 x 720p at a smooth 24 fps and Panasonic's iA technology – making shooting photos and videos simple and intuitive – while still producing vivid and beautiful images Additionally, it features the LUMIX Image Uploader, with which you can instantly share images via Facebook© and video via YouTube™ when the digital camera is connected to a computer or the SD Memory Card is inserted.

Furthermore, the Panasonic LUMIX FH7 encompasses Panasonic's Venus Engine VI image processor, which automatically detects outlines, detailed texture areas and soft gradation that results in naturally clear images. The multitasking Venus Engine VI also supports a super-fast response time. The shutter release time lag is incredibly quick, at approximately 0.006 second and its quick response makes it easier to capture sudden, spur-of-the-moment photo opportunities. For more information on all Panasonic's LUMIX digital cameras, please visit www.panasonic.com/lumix.
Press Release:
PANASONIC ANNOUNCES PRICING FOR ITS MOBILE CAMERAS AND DUAL CAMERAS – ALL AVAILABLE IN EARLY JULY 2011

SECAUCUS, NJ (June 9, 2011) – Panasonic today announces pricing for its new full-High Definition*1 (HD) mobile cameras, the HM-TA20, HM-TA2 and its new dual cameras, the HX-WA10, the HX-DC10 and the HX-DC1. All five new models will be available in early July 2011 for the following suggested retail prices: $199.99 for the HMT-TA20; $169.99 for the HM-TA2; $349.99 for the HX-WA10; $279.99 for the HX-DC10; and $199.99 for the HX-DC1.

The HM-TA20 is a full-HD mobile camera, which has a rugged design that is waterproof to approximately 10 feet, shockproof to approximately 5 feet and dustproof*2 and with the Night View Mode – it shoots exceptional video and photos, even in low-lighting. The Panasonic HM-TA20's small and compact size, combined with tough exterior, make this the ultimate video camera when it comes to portability. Plus, with a large, 3.0-inch Touch LCD, the HM-TA20 is easy and intuitive to use.

The Panasonic HM-TA20 shoots in full-HD 1920 x 1080 video, and records in the MPEG-4 AVC file format (MP4), which is convenient for editing images with a computer and uploading files to the Internet. The HM-TA20 includes an integrated USB terminal in its compact body and after editing images within the camera, the user simply connects the camera to a computer and the built-in software, which must be installed first, will then always launch automatically upon connection. The HM-TA20 can also be used as a web camera, for online video chatting. Additionally, extended voice recording is also possible, for recording and storing sounds.

The Panasonic HM-TA2, is also a compact and mobile camera with the same features as the HM-TA20, except it is not waterproof, dustproof and shockproof. Like the HM-TA20, the HM-TA2 features the Night View Mode, a large 3.0-inch LCD for easy and intuitive Touch Operation for controls such as, play, record, stop, zoom, and also settings such as edit – all accessible with the touch of a finger.

The three new Dual Cameras, the HX-WA10, the HX-DC10 and the HX-DC1, all of which have an easy-to-hold vertical design, making it easy and seamless to shoot full-HD videos (1920 x 1080) or photos – without having to switch between the two settings as there are separate video/photo capture buttons. The HX-WA10 is waterproof down to approximately 10 feet*3 making it extremely versatile, and the HX-WA10 and HX-DC10 models include Panasonic's Backside Illumination (BSI) technology, which allows for optimal shooting in dimly-lit conditions.

Panasonic's three new Dual Camera models record video in the MPEG-4 AVC file format (MP4), which is convenient for uploading images to the Internet or editing on a computer. Beyond the full-HD video capabilities, the HX-WA10 and HX-DC10 also offer 16-megapixel still photos, while the HX-DC1 takes 14-megapixel photos – resulting in high-quality images. All three models can take 2-megapixel still photos while shooting full-HD videos. Despite being compact in size, all three models have a powerful 5x optical zoom, giving the user more range when shooting video and photos.

For more information, please visit, www.panasonic.com.