Panasonic Lumix GX7 hands-on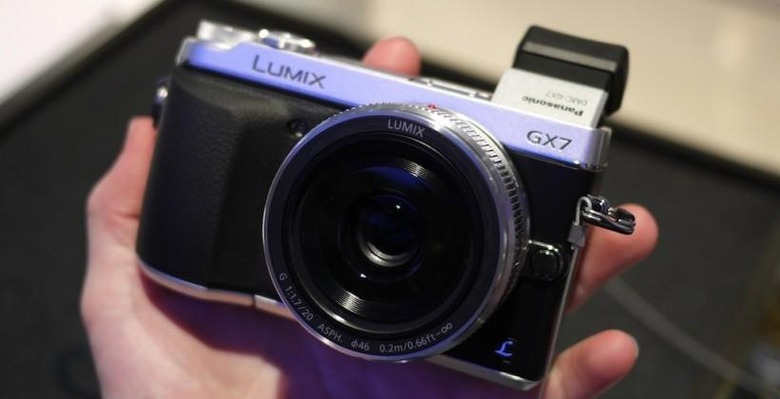 Panasonic's Lumix GX7 is the latest in a long line of interchangeable lens cameras, raising the game with features you might normally associate with full-sized DSLRs like an adjustable viewfinder. Announced last month, the GX7 takes Panasonic's camera design back to a more retro place, looking particularly good in the two-tone finish we spotted at IFA 2013 today. Beauty is more than skin-deep, however.
Inside, there's a 16-megapixel CMOS good for stills and up to 1080/60p video, together with in-camera optical image stabilization courtesy of the company's own Lumix MEGA OIS technology. That means even non-OIS lenses that meet the micro-four-thirds format can still deliver smoother footage and shoot stills at longer frame-rates without blur.
Panasonic's GF range of interchangeable lens cameras have been moving closer to the consumer mainstream over the generations, so the GX7 adds some welcome prosumer features. Most noticeable is the 90-degree tiltable live viewfinder; that supports 100-percent color reproduction and 2,764K dot equivalent resolution. Look through, and it's hard to believe it's not an optical viewfinder, in fact, incredibly detailed though of course you get all the information usually shown on the regular display.
That 3-inch touchscreen LCD is, just like the viewfinder, tiltable; it can be hinged both up, for use when the GX7 is held low, and down, when the camera is held over head height. The GX7 automatically turns the viewfinder on and off when you lift it to your eye, switching between it and the LCD to better manage battery life. The panel has 1,040k dot resolution and 100-percent FOV coverage; it's bright and responsive, clearly visible even under the bright direct lights of the show floor. There's also both WiFi b/g/n and NFC.
In use, the Panasonic feels solid in the hand, and though the spray of buttons on the back and along the top may be intimidating at first glance, they physical keys and dials are preferable to a touchscreen when it comes to rapid settings changes. The Lumix GX7 uses a magnesium alloy chassis to keep weight down but still keep the whole thing sturdy, and the chunkier grip fits the palm neatly, complete with a useful rubberized thumb-rest on the reverse.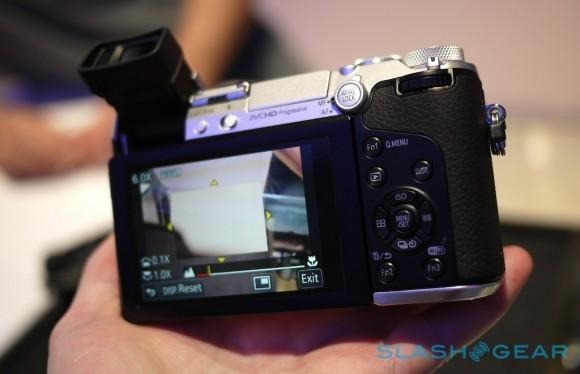 Meanwhile, there's a choice of regular or "silent" modes, which can flip between mechanical and electronic shutters. It does make a noticeable difference to how much noise the GX7 makes in average use, and also dims or shuts down entirely the key backlighting so as to be less distracting in low-light situations.
With a sticker price of $999.99 body-only (or $1,099.99 in a bundle with the G VARIO 14-42mm II Lens) the DMC-GX7 does stray into DSLR territory. Still, the form-factor has its advantages for street photography and more casual use, while the combination of specifications and wireless connectivity deliver many of the benefits of a DSLR – and many which still can't be had on a DSLR, unless you pay considerably more – in a compact size. It'll begin shipping in the US on September 30, 2013.