Panasonic LUMIX GH5S cranks to 51,200 ISO for low-light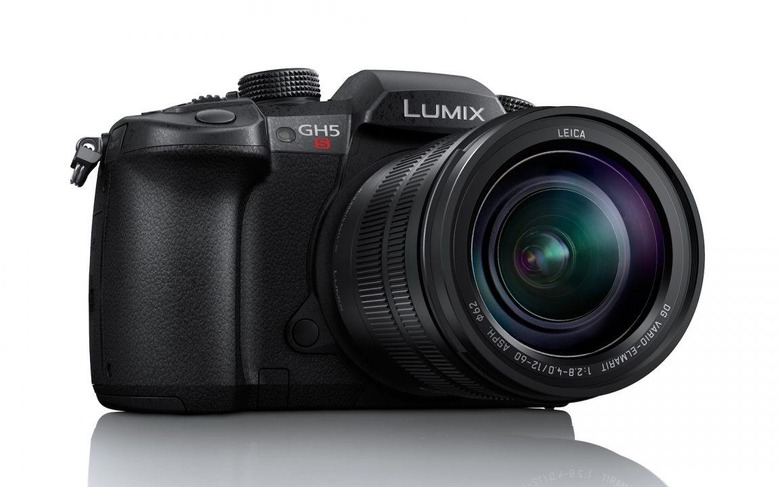 Panasonic has revealed its latest digital camera, the LUMIX GH5S, putting a focus on low-light performance. Unveiled at CES 2018 today, the GH5S extends its talents to 51,200 ISO recording, without resorting to extended ISO, courtesy of a newly-developed sensor.
That sensor clocks in at 10.2-megapixel resolution, and Panasonic is pitching it directly at videographers. Indeed, according to the camera company, it's capable of the highest-ever image sensitivity and video image quality of a LUMIX so-far.
It's a multi-aspect type sensor, with support for the same angle of view across 4:3, 17:9, 16:9, and 3:2 aspect ratio filming. There's also 14-bit RAW support, along with a Dual Native ISO Technology will also weigh in to suppress noise.
On the video front, there's 4K 60p recording in Cinema 4K (4096 x 2160) resolution, along with internal 4:2:2 10-bit video recording up to Cinema 4K30p, and internal 4:2:0 8-bit Cinema 4K60p. It'll also record 4:2:2 10-bit 400 Mbps All-Intr Ain 4K 30p/25p/24p and 200 Mbps All-Intra in Full HD. Whether you're recording in 4K or Full HD, there are no limits in video recording.
Variable Frame Rate adds support for over cranked and under cranked video in C4K/4K, for up to 2.5x slow-mo footage in 60 fps, or up to 10x slower in 240 fps Full HD. Focusing is across 225 focus areas, and there's face and eye recognition, tracking AF, 1-area AF, and Pinpoint AF. 4K PHOTO captures 60fps in around 8-megapixel equivalent resolution.
Panasonic has added support for Time Code IN and OUT, for synchronizing multiple cameras for multi-view scenes, and the GH5S can act as a Time Code generator too. Adding to the usefulness of the low-light shooting, there's a Low Light AF system which boost brightness just for Live View. MF magnification assistance is doubled, to 20x, and there's an AF Point Scope function borrowed from the LUMIX G9.
As for the hardware, there's Bluetooth 4.2 and WiFi 802.11ac, and the whole camera is made of splash-, dust-, and freeze-proof magnesium alloy. A double SD card slot is standard, plus an HDMI Type A port and USB-C. The Live View Finder supports up to 120 fps, and there's a 3,680k-dot OLED display, dual duals, and an omni-directional joystick.
Compared to the existing LUMIX GH5, it's worth noting that the autofocus is effectively the same, and you're actually losing out on resolution in favor of low-light ISO performance. It'll go on sale in late February, priced at $2,499.