Panasonic LUMIX G9 puts GH5 talents to still use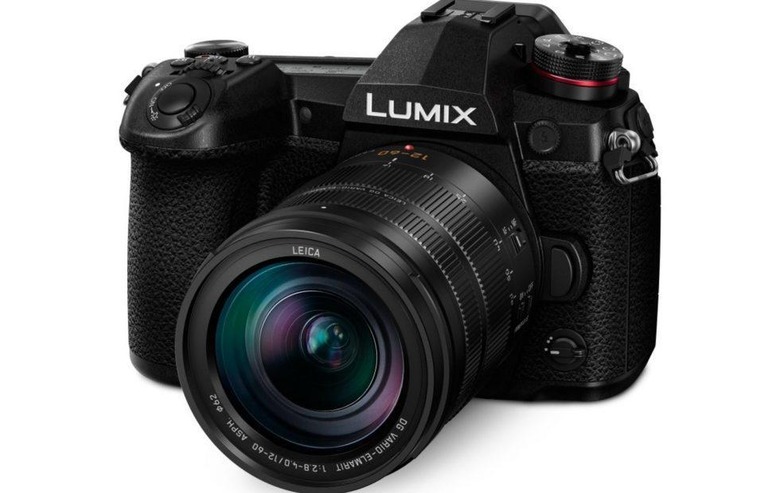 Panasonic has a new flagship camera for its line-up, the Panasonic LUMIX G9, promising 20.3-megapixel photos and a hefty 80-megapixel High Resolution mode. The new LUMIX G9 takes on Sony's recent Alpha series announcements, with a weather-proof body and "dramatically improved" image stabilization built in. That means plenty borrowed from the LUMIX GH5, only with an emphasis on still photography.
So, Panasonic claims that the new Body I.S. system can offer up to 6.5 stops of compensation, regardless of whether you're using Dual I.S.2.0 compatible LUMIX lenses. New sensors and software take velocity and motion vector data from both a gyroscope, as per the old camera, but from within the image sensor and an accelerometer too. It'll work for both still and 4K video recording.
Elsewhere there's a 0.04 second autofocus speed, which Panasonic claims is the world's fastest. It relies on DFD, or Depth From Defocus, which compares two images with different sharpness levels and taking into account the optical characteristics of whatever lens is attached at the time. Combined with a sensor drive auto focus speed of 480 fps, the LUMIX G9 can do 60 fps high-speed in AFS mode, or 20 fps in AFC, both at full resolution.
While many cameras can spot faces and eyes, the LUMIX G9 and its Venus Engine 10 promises to spot the human body in general for improved focus locks. There's also an AF Point Scope feature, which magnifies distant subjects to make them easier to fix onto.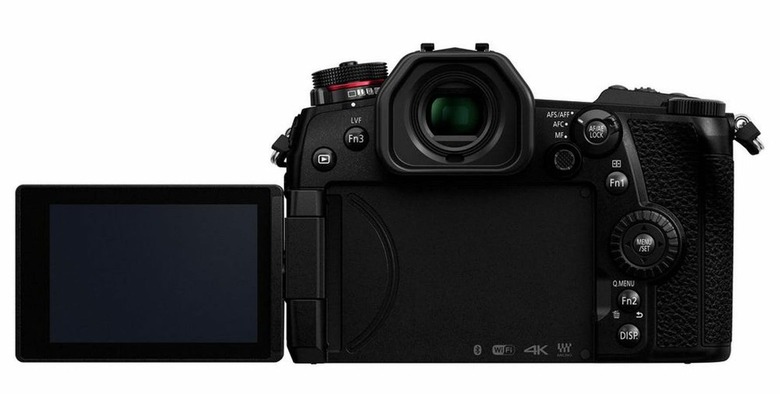 Focus areas have increased from 49 to 225, and there's a new joystick under the right thumb to make controlling them easier. Four presets can be set to a user's custom configuration, controlling not only AF sensitivity and area switching sensitivity, but moving object prediction level too.
Pre-burst shooting has been added, with the LUMIX G9 starting to capture 0.4 seconds in advance of the shutter being released. 6K PHOTO mode captures at 30 fps, meanwhile, from a 6K burst file in 4:3 or 3:2 aspect, saved as a roughly 18-megapixel still. Or, you can switch to 4K PHOTO for 60 fps and an 8-megapixel final image. Panasonic is using its Venus Engine 10 to do Post Recording Refinement to cut noise and distortion.
As for the hardware, it's a magnesium alloy full die-cast front and rear frame, with splash, dust, and freeze-proofing. A large status LCD is on top, and an OLED viewfinder with a 100-percent field of view. The latter gets a Night mode with mild backlighting for when you're switching between the preview screen and the EVF in low-light conditions.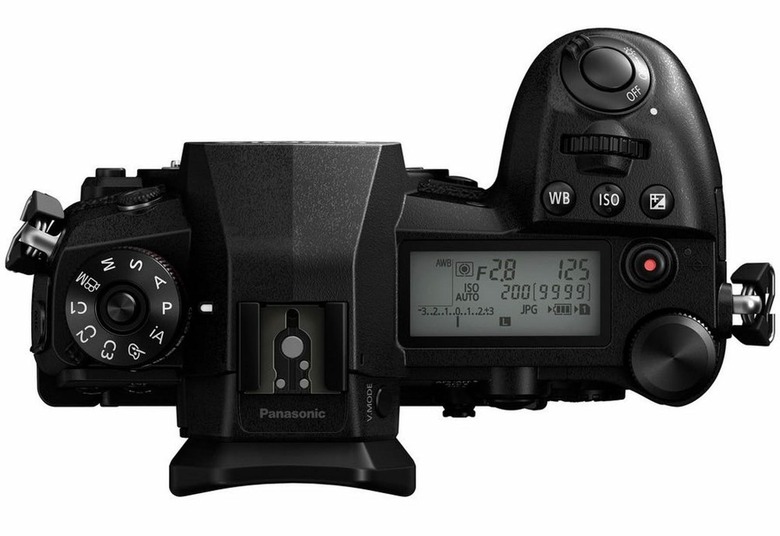 A 3-inch 3:2 touchscreen is on the back, with 1,040k dot resolution, and supporting approximately 270-degree upward and downward tilt. Inside, there's WiFi b/g/n/ac and Bluetooth 4.2, with support for wireless tethered shooting from a smartphone or tablet. Panasonic also uses the wireless options for sharing settings between LUMIX G9 cameras.
Twin SD memory card slots handle UHS-II cards, with the choice of either saving to first one then the other, doubling up on data, or keeping one for video and one for photos. Panasonic has added access LEDs too; it's a small touch, but it means it'll be easier to tell which is active and which can be ejected. The USB port supports both charging and power feeding for extended use.
Panasonic says sales of the LUMIX G9 will kick off in early January 2018. It'll be priced at $1,699.99 for the body alone; there'll be a battery grip for $349.99 too, which will add a second joystick, battery, and which packs its own matching weatherproofing too.