Panasonic LUMIX GH5 DSLM camera boasts unlimited 4K/60p recording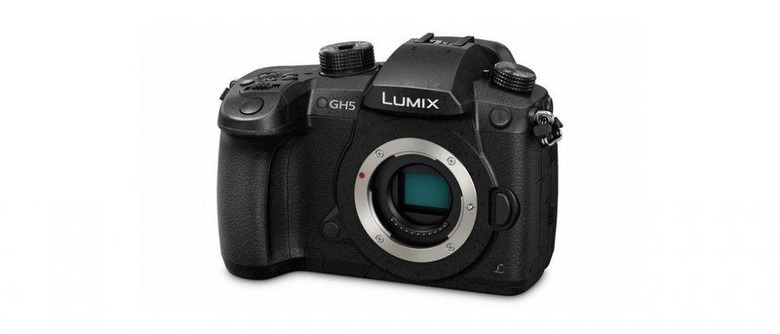 Panasonic has introduced a new flagship digital camera, the Lumix GH5 with support for recording 4K 60p/50p video and snapping up to 6K photos. This mirrorless camera has what Panasonic calls an 'unimaginably small-sized body,' something complemented by the Digital LIVE MOS Sensor with a 25-percent greater pixel count relative to the GH4 model. The model also ditches the low-pass filter, among other things.
The Lumix GH5 features a 20.3-megapixel sensor versus the 16.05-megapixel sensor found on the GH4. Content is processed by the camera's Venus Engine, which itself includes the Multi-pixel Luminance Generation for rendering what Panasonic calls 'clean, sharp' photos. The camera also features Intelligent Detail Processing, as well as Three Dimensional Color Control.
That latter feature is designed to detect things like brightness, saturation, and hue to add 'optimum control' based on those factors. The GH5 model has been upgraded to High Precision Multi Process Noise Reduction, the "high precision" part of that being new versus the previous model. We also find a five-axis Dual Image Stabilizer 2, which encompasses both a five-axis Body Image Stabilizer and a two-axis Optical Image Stabilizer.
Panasonic goes on to state that its new GH5 model is the first DSLM camera of its kind to reach the pro-quality standard, something made possible in part by the faster processor and faster signal readout speed. This camera offers up to internal 4:2:2/10-bit video recording resulting in, says the company, quality color reproduction not unlike the kind you get with film.
Given its professional targeting, it's not surprising that users are given multiple video format option to choose from: MP4 and MOV, as well as AVCHD and AVCHD Progressive. Even better, users can record in 4K/60p without a recording time limit, a typical restriction for such a feature. Other features include Bluetooth 4.2, WiFi, a 3.2-inch rear display, and a rugged design for field use. This model will be available starting in $1999.99 (body-only).
SOURCE: PRNewswire