Panasonic LUMIX FX78 creates 3D stills with a single lens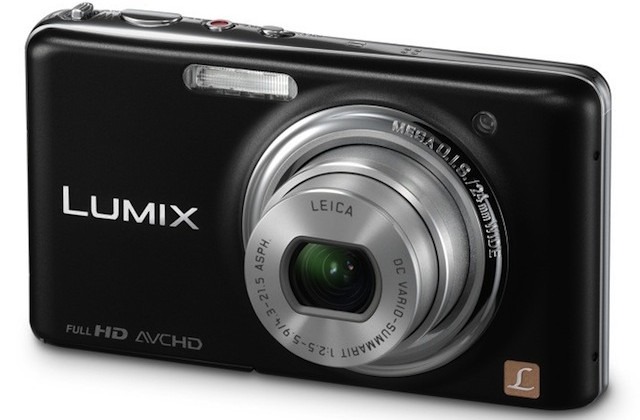 Panasonic's rugged TS3 and Full HD ZS10 and ZS8 digicams aren't the only new models from the company today; there's also the ultracompact Panasonic LUMIX FX78. Built around a 24mm ultra-wide angle Leica lens with a 5x optical zoom and a 12.1-megapixel sensor, the FX78 is controlled via a 3.5-inch touchscreen display and supports Panasonic's 3D Photo mode.
Despite only having a single lens, 3D Photo creates 3D stills by taking 20 consecutive photos and overlaying the two best to create an image that can then be played on a Panasonic VIERA 3D HDTV. There's also Full HD video recording and optical image stabilization.
Various in-camera editing and retouching options round out the main specs; more details in the press release below. The Panasonic LUMIX FX78 will go on sale in March 2011 in black, gold and white; pricing will be confirmed closer to the time.
Press Release:
PANASONIC INTRODUCES STYLISH AND ULTRA-COMPACT LUMIX FX78 DIGITAL CAMERA WITH FULL-HD VIDEO CAPABILITIES

The LUMIX FX78 Features a F2.5 Super-Bright 24mm Ultra-Wide-Angle Leica Lens for Superb Photo and Video Quality and a Large 3.5-inch Smart Touch LCD for Intuitive Operation

SECAUCUS, NJ (January 25, 2011) – Panasonic today expands its LUMIX FX-Series of stylish and compact digital cameras, with the LUMIX FX78, which features a new Smart Touch operation on the large 3.5-inch 16:9 aspect LCD, allowing for intuitive touch operation, including Touch AF, Touch Zoom, Touch Shutter, and Touch Playback. The LUMIX FX78 also incorporates a new LEICA DC VARIO-SUMMARIT, 24mm ultra-wide angle lens that has a 5x optical zoom with F2.5 aperture. The 24mm wide-angle lens offers approximately 213% larger viewing space when compared to a traditional 35mm camera. This high-performing lens has been designed to fit the slim body while still offering exceptional photo and video quality. With its wide and bright lens, the LUMIX FX78 excels when shooting dynamic landscapes and in low-lit situations.

The LUMIX FX78's Smart Touch Screen allows for the Auto Focus (AF) to be set by simply touching the subject on the LCD and a touch can even release the shutter. Once locked on the subject, the LUMIX FX78 tracks the subject with the AF tracking function even if it moves. With the Intelligent Scene Selector in the iA mode, the FX78 automatically switches to the appropriate mode according to the subject touched. For example, a touch on a human face switches to the portrait mode, and a touch on the background or a landscape changes to the Scenery mode, while a touch on the subject close in the foreground changes to Macro mode. All menu settings are now available with touch control. The touch-screen operation excels not only for shooting, but also in playback, allowing the user to drag the images across the screen with a finger and browse the collection of photos as though flipping the pages of the book.

"With its super-bright and wide-angle lens, the LUMIX FX78 is a high-performing digital camera that excels in image quality, producing exceptional full-HD videos and still photos," said David Briganti, Senior Product Manager, Imaging, Panasonic Consumer Electronics Company. "With the new touch-screen operation, the FX78 is intuitive to use and allows the user to take a photo, track a subject and even touch-up a face with just the touch of the finger."

The LUMIX FX78 also features the Panasonic 3D Photo mode, which produces a realistic 3D photo by taking 20 consecutive photos and overlaying the two best to create a 3D image that can then be played on a Panasonic VIERA 3D HDTV. The format of 3D images is compatible with MPO, and can also be played back on other MPO-compatible equipment such as a televisions, digital photo frames and printers. Panasonic also adds the LUMIX Image Uploader, for seamless and instant sharing via Facebook (for digital photos) or YouTube (for videos). Users can checkmark the photo or video files they want to share, connect the camera to a PC with the included USB cable or by inserting the SD Memory Card directly into the PC's SD Card slot, and then the uploading automatically launches with an easy-to-follow menu option.

Incorporating a newly developed 12.1-megapixel Hi-Speed CCD sensor, the DMC-LUMIX FX78 is compatible with high-speed, large-capacity signal processing required for 1920 x 1080 full-HD video recording in AVCHD and high speed continuous shooting. The AVCHD format almost doubles the recording time in HD quality, when compared with the conventional Motion JPEG. The LUMIX FX78 also boasts Dolby Dolby® Digital Creator to record high quality audio.

The advanced image processing LSI, the Venus Engine FHD, assures high picture quality in both photo and movie recording. It also incorporates the Intelligent Resolution technology to perform the optimum signal processing to give the entire image outstandingly natural clearness with fine details. The LUMIX FX78's 5x optical zoom is available when shooting video. Thanks to the Intelligent Resolution technology, the Intelligent Zoom is available with the LUMIX FX78 which extends the zoom ratio by approximately 1.3x maintaining the picture quality and extending it to a 6.5x zoom equivalent. The Sonic Speed AF, which gains approximately 33% higher speed compared with its predecessor DMC-FX75, has a quick shutter release time lag as short as approximately 0.005 second.

The LUMIX FX78 is not only a high-performing digital camera when it concerns image quality, but it also includes a host of entertaining features that brings photography to a new level of fun with features such as Art Retouch and Beauty Retouch. The Art Retouch function lets the user change the original photo in brightness and color saturation. The Beauty Retouch mode allows users to digitally touch-up faces by applying different effects, such as skin texture, lifting up the face and whitening of teeth. In addition, the Make-up mode gives the user the option to change the face's complexion, lips, cheeks or eye-shadow coloring.

Panasonic's iA Mode, a suite of technologies that engage automatically, has evolved for more powerful image stabilization while video recording and taking still photos with Active Mode which boosts MEGA OIS to excel in suppressing blur when recording videos at wide angle while walking. Other features of iA include: Motion Deblur, MEGA OIS, Face Recognition, Face Detection, AF Tracking, Intelligent ISO Control, Intelligent Scene Selector and Intelligent Exposure. With iA, taking beautiful photos is possible for users at any level. In addition, the Intelligent Resolution technology is always activated in the iA mode, which helps produce even clearer photos by precisely performing signal processing pixel by pixel to help ensure clear and sharp images.

The LUMIX FX78 will be available in March 2011 in black, gold and white models and pricing will be announced approximately 30 days prior to shipping date. For more on these Panasonic LUMIX models, please visit www.panasonic.com/lumix.