Panasonic Lumix DMC-FX90 Wi-Fi Touchscreen Camera Official

What's better than a sweet little high quality camera that fits in your pocket that you can rely on to bring you a lovely yet compact experience daily? That same thing with Wi-Fi connection capabilities. Then add the fact that it's got a touchscreen on the back – oh man, now you're just talking crazy. Not actually – this is a real device, and it's called the Panasonic Lumix DMC-FX90. This camera is rated at 12 megapixels, is just 0.85 inches deep, and can connect to the internet wirelessly.
But it doesn't look ultra strange as you'd expect such an innovative product to look, does it, it just looks sorta normal. Newness fills its innards, however, and the aesthetic appeal certainly is at a peak – would you mind carrying around such a device? This device will allow you to upload (should you have a connected Wi-Fi signal) photos and video to YouTube, Flickr, Facebook, and Picassa. No word at the moment on if we'll be able to work with other online repositories for media like Google+, for example, down the line. Panasonic has also mentioned a new web photo-sharing service they're innitiating called Lumix Club that you'll be able to take advantage of as well.
In addition to being able to upload straight to the internet, you'll be able to transfer photos and video using a Wi-Fi signal to your smartphones and other computers. While you'll be able to upload content to the sites listed above right out of the box, you'll have to download a special Panasonic app on Apple's iOS or Google's Android platforms if you want to transfer to your smartphone – note though that this app is completely free on each of the said platforms' app markets.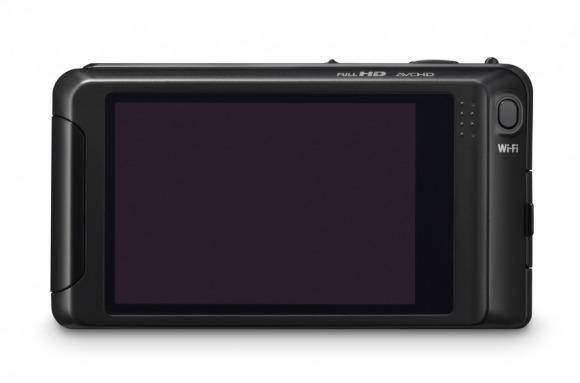 This camera features a 5x optical zoom lens (24mm to 120mm) with a max aperture of F2.5 and the ability to capture 1080i video at 60fps. This device also features, as noted, a 3-inch touchscreen on the back that includes menu navigation, touchscreen controls, and post-shot editing tools.
This device has not had a formal date or price issued for it, but the mentioned Lumix Club portal will be launching on September 5th, 2011, so this device probably wont be far behind. A couple other Panasonic Lumix devices have also been released today including the DMC-FZ150 with a flip-out display and massive potential for zoom and speed, the Panasonic GF3X upgrade to the GF3, and the lens that makes the X. Check em all out.