Panasonic LUMIX DMC-3D1 shoots 3D or simultaneous 2D/HD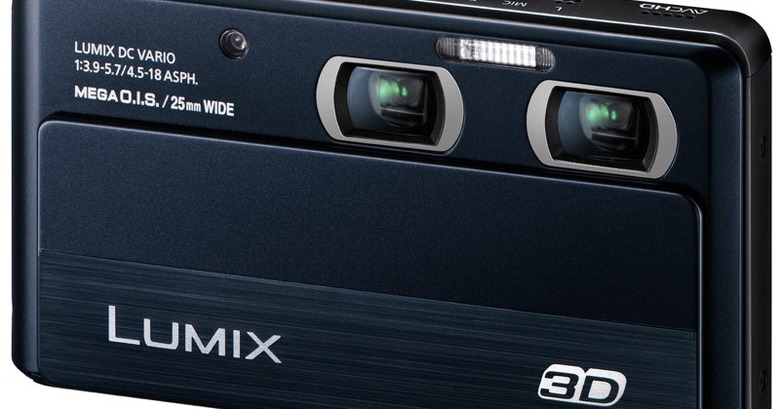 Panasonic has revealed its latest point-and-shoot, the LUMIX DMC-3D1, and as the name suggests it's packing a pair of sensors for 3D still and video photography. The DMC-3D1 has two 12-megapixel sensors with 25mm ultra-wide angle lenses with 4x optical zoom, and as well as shooting 8-megapixel 3D stills or 1920 x 1080 60i 3D video, can also shoot 12-megapixel stills and 1920x1080i full HD 2D videos simultaneously, each sensor being used independently.
That potentially makes the new LUMIX interesting even to those who aren't really bothered by 3D stills or video. We've seen other cameras and camcorders capable of snapping still shots while video recording is taking place, but the still images are generally lower resolution than normal and are reliant on the same zoom/focus/exposure/etc settings of the video recording. By fitting two completely separate sensors, however, Panasonic has made it possible for independent settings for photo and video.
A dedicated 2D/3D switch on the back toggles between the modes, and there's Panasonic's quad-CPU Venus Engine for intelligent noise reduction and other post-processing. Continuous shooting can take place at up to 8 fps (without auto-focus) or 4 fps (with auto focus) in full resolution.  Both AVCHD and MP4 video formats are supported, with primary control via a 3.5-inch touchscreen.
Panasonic expects the LUMIX DMC-3D1 to go on sale in December, priced at $499.99.