Panasonic LUMIX 12.1MP digicams announced: FZ35, FP8 and ZR1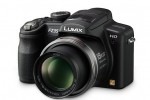 Panasonic have announced their latest three LUMIX digital cameras, kicking off with the DSLR-lookalike FZ35 with an 18x zoom, following up with the more fashion-focused FP8 with its 4.6x zoom, and finishing up with the mid-range ZR1 with an 8x zoom.  All three have a 12.1-megapixel sensor, optical image stabilization and face-recognition.
The LUMIX ZR1 uses what Panasonic are calling the world's first 0.3mm thin aspherical lens, which basically means it can offer a decent optical zoom without ending up huge.  Meanwhile the LUMIX FZ35 has an HD video recording mode with adjustable shutter speed and aperture.
The Panasonic LUMIX FZ35 "superzoom" will be priced at $399.99, the LUMIX ZR1 at $279.95 and the LUMIX FP8 at $299.95.  All three models will hit the market in September 2009.