Panasonic launches first US in-dash DVD Sat-Nav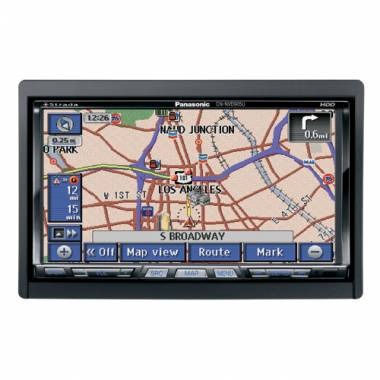 After seeing what DiXCOM can do with GPS earlier on, how do the big boys compete?  Well, this month Panasonic will start selling the Strada double-DIN sat-nav system, which happens to be its first such device available in the US.  The memory-friendly CN-NVD905U requires professional installation before you can enjoy its 7-inch touchscreen, gateway to such features as a 30GB hard-drive for the NAVTEQ mapping and 12 million points-of-interest, DVD and iPod link for entertainment and Sirius traffic updates.
Compatibility not only with DVD videos but discs loaded with music in mp3 or WMA format should keep you entertained on the road, as will the surround sound and the ability to drive rear-seat supplemental screens.  Should a more sedentary form of pleasure be required, you can also hook up an optional reversing camera to the screen.  Bluetooth means that you can use it as a hands-free kit with your cellphone (although it doesn't have a full cellphone built in as the DiXCOM device does), and mapping data is upgradeable either by DVD or using an SD card.
The cost?  A stomach-clenching MRSP of $1,799.95 (excluding installation)
Product Page and Press Release [Panasonic]