Panasonic ELUGA fully detailed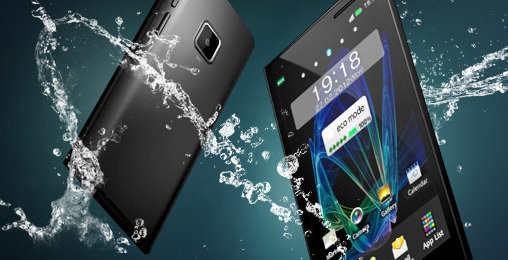 The folks at Panasonic have released information about an Android smartphone that'll be as slim as it is waterproof, with full high specifications in tow. This device goes by the name Panasonic ELUGA and is another way of saying "elegant user-oriented getaway." With a massive 66% of the phone's body dedicated to display, the entirety of the device being waterproof, and the whole unit weighing in at 103g total, we've got to expect that this will be a force to be reckoned with in 2012.
This device has a 7.8mm profile, a "D" shape to slide in and out of a pants pocket with ease, and an 8 megapixel camera on the back with no bump above the surface. This device has a tiny 123x62.0x7.8mm frame, is protected by international standard IP57 water and dustproofing, and will survive 1 meter of water for up to 30 minutes. Dust then is 75 micrometers or less in diameter/no harmful deposit protected for up to eight hours – desert style!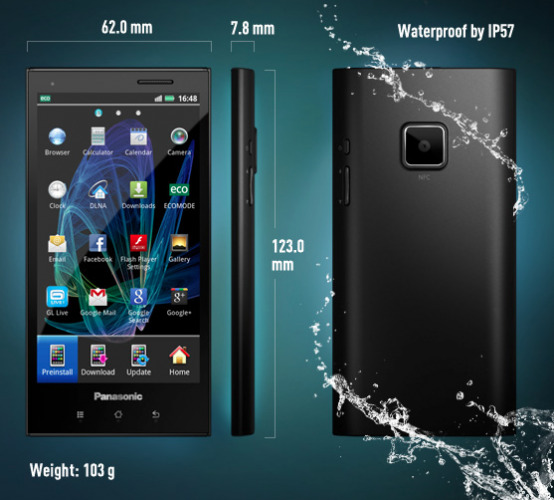 The ELUGA has NFC Near Field Communication capabilities inside, had a 4.3-inch 960 x 540 OLED QHD display up front and a 1GHz dual-core Texas Instruments OMEP 4430 processor on the inside. This smartphone comes with Android 2.3.5 Gingerbread with a promised upgrade to Ice Cream Sandwich in the summer of 2012, and has an "eco mode" that brings Panasonic's power-saving technology to the forefront. Toshiya Matsumura, General Manager, Head of Mobile Communications, Panasonic System Communications Europe, noted the following of the device:
"Despite the unprecedented increase in the number of smartphone devices appearing over the last few years, we don't believe anyone has yet managed to truly bridge the gap between style and substance. With the launch of the ELUGA, we're aiming to prove it is possible to deliver style, function, form, and the very best underlying technology, all in a competitively-priced package." – Matsumura
This device will be coming to Europe in April of 2012, and does not yet have a release price. This device may be coming to the USA eventually, but likely not for a quarter or two if at all. Check out the photos and see this lovely beast!