Panasonic DY-PS10 Pocket Server lets you take your TV with you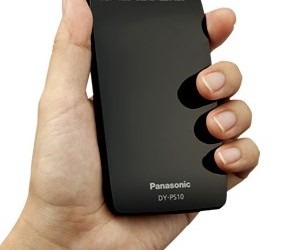 Panasonic has outed a Pocket Server, the DY-PS10, a smartphone-sized box that can push digital media stored on SDXC memory card over a WiFi b/g connection to your iPhone, iPod touch, iPad or other device. Owners of Panasonic DIGA A/V equipment – such as TVs, DVRs and Blu-ray decks – will be able to take the memory card out of their kit and slot it straight into the DY-PS10, then squirt the photos, music and video stored on there right over to their phone.
A 64GB SDXC memory card (there's SD and SDHC support too, obviously) is good for up to 88hrs of standard-definition video, while the battery in the personal media server itself is around 10hrs of active use. The 1,400 mAh pack recharges in around 4hrs, and you can hook the DY-PS10 up to your computer via USB and transfer files to a memory card directly if you prefer.
The Panasonic DY-PS10 will go on sale on September 15, priced at 14,800 yen ($191). Unfortunately it seems those of us outside of Japan may have to wait a little longer for a slice of the personal media server action. Panasonic says the DY-PS10 is currently Japan-only because of wireless restrictions.