Panasonic 37-inch OLED TV expected in 18 months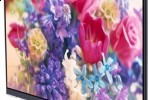 Panasonic have revealed their plans to bring an OLED TV to market within the next 18-24 months.  The company has been working on extending OLED display lifespans, with a target figure of 50,000 hours (20,000 hours more than the current average); the first TV is expected to be a 37-inch model measuring just 1-inch thick, and developed in partnership with Toshiba.
The increased lifespan of the new displays brings the OLED panels more in line with Panasonic's plasma TV range, which general last for over 60,000 hours of use.  Their system – which was developed with the assistance of several engineers recruited from Pioneer – uses a metal membrane inside the panel that can help move light more efficiently.
No specific product details have been confirmed by either company, but the pair have acknowledged that they are working together on OLED technology, including high-definition OLED panels.  The 37-inch TV is expected to be produced at Panasonic's new IPS Alpha factory.
[via OLED-display]