PalmPad Tablet On The Horizon From HP, New WebOS Inside, Hardware Like iPad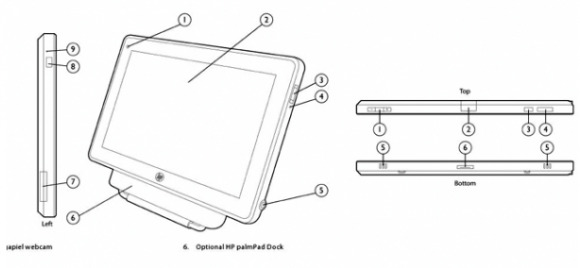 Everyone's favorite news source FoxNews.com has obtained a spec sheet for a forthcoming PalmTablet today from "a trusted source." They've revealed that HP will introduce three models of a PalmPad at CES at the beginning of 2011, each of them with only minor hardware differences inside. Each of these tablets will run WebOS 2.5.1 and will represent a sort of spin-off of the magical mystical never-saw-daylight HP Slate. Also included in this upcoming series will be a fourth tablet (that won't be seen at CES) but will be "custom made for university students to prove how versatile the machines can be."
This fabulous new PalmPad is set to work on Sprint's "4G" network and has a set of hardware specs "nearly identical" to the Apple iPad. Tiny differences include an HDMI port instead of the universally Apple port the iPad features, a slightly thinner overall size, rounder sides, 1.25 pounds in weight, and a USB 3.0 port as well as a "multi-switch" like the one featured on the Palm Pre.
The PalmPad is set to feature front and rear-facing cameras with LED flashes at 1.3 and 3 megapixels. Each of the three CES-released versions will have a screen right around 9.7-inches while the university version is set to have a 8.9-inch screen. The university version will have complete access to the univerity's internal educational software set, university requested features, and HP hopes they'll be in use by Fall semester 2011 (lofty goal?)
Don't forget to head on over to http://webosforums.com/ and chat it out as WebOS continues its ascent into superstardom and the taking over of the world written in its destiny!
[Via FoxNews.com]