Palm webOS UI chief taking new role in Android team? [Update: Confirmed!]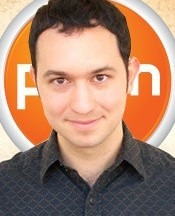 The man responsible for the Palm webOS UI, Matias Duarte, has apparently jumped ship and taken a new job at Google, most likely in the search giant's Android team.  That's according to AllThingsD's sources; Palm have confirmed Duarte's resignation, but neither they nor Google will confirm exactly where he's headed.  As Senior Director of Human Interface and User Experience at Palm, Duarte took the lead in developing the distinctive and flexible webOS interface, one of the things many – us included – believe will make the platform so ideal for the upcoming HP webOS tablet.
Update: It's confirmed, Duarte will be Google's new "User Experience Director for Android"
Duarte previously worked at Helio, crafting the feature-phone's UI, and before that led the team responsible for the Danger Hiptop, the first of the Sidekick series of devices.  Assuming the rumors are true, Duarte will likely take a key roll in fettling Android's UI, which although much advanced in the latest version, still lacks the finesse of some rivals.