Palm Treo Pro WM6.1 Smartphone officially launched (again)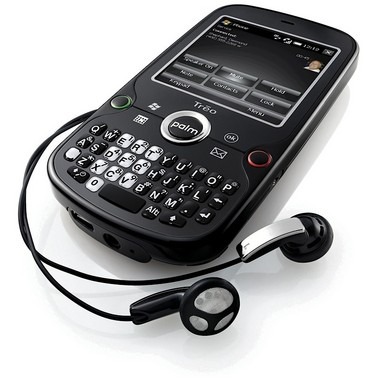 After a quickly-pulled early release yesterday, Palm have now officially announced the Treo Pro smartphone.  As expected, the Windows Mobile 6.1 device has WiFi b/g, UMTS (triband), GPS and Bluetooth.  It's quadband GSM and has a 320 x 320 flush-fitted touchscreen.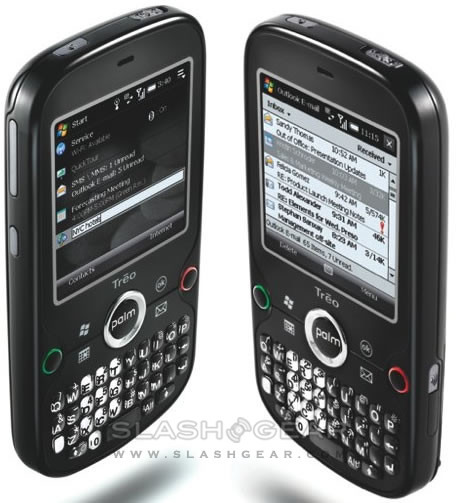 ROM is 256MB and RAM 128MB; memory can be augmented by microSDHC cards up to 32GB in size.  There's also a 2-megapixel camera, standard 3.5mm headphone socket and a microUSB connector.
Palm will be selling the device unlocked in the US, priced at a not-inconsiderable $549, and available in the Fall.  It will be priced from free to €399 in the UK on Vodafone and O2, and from free in Australia through Telstra, once it launches in those regions in September.
Press Release:
Treo Pro Smartphone by Palm Balances Simplicity and Productivity in a Streamlined Design for Business Professionals

Treo Pro Empowers Mobile Work Force With Windows Mobile 6.1 and

Palm Shortcuts

SUNNYVALE, Calif., Aug 20, 2008 (BUSINESS WIRE) — Palm, Inc. (Nasdaq:PALM) today introduced Treo(TM) Pro, an effortlessly usable smartphone for businesses that want to simplify their IT infrastructures and lower costs, and for users who want to stay on top of their professional and personal lives. With its streamlined design and Palm(R) shortcuts layered on Windows Mobile 6.1 Professional, Treo Pro is a unique combination of sleek simplicity and robust productivity — including email, Wi-Fi and GPS capabilities(1) — that meets the needs of businesses and end users alike. Treo Pro, which will be available from Vodafone and O2 in Europe(2) and from Telstra in Australia, also will be available in an unlocked version in the United States, Europe and Asia Pacific.

"Businesses want the control and savings that Windows Mobile affords, in an innovative and elegant package that keeps their users happy. That's where Palm comes in," said Ed Colligan, president and chief executive officer, Palm, Inc. "Everything about Treo Pro — from the hardware design to the packaging and accessories — embodies the elegant and simplified end-to-end experience that our customers expect from Palm."

The Treo Pro smartphone lets IT managers support an increasingly mobile work force with the ease of use and robust feature set business professionals demand. Besides the benefits of lower costs and increased productivity, Treo Pro can deliver the increased security, easier device management and access to information on the corporate network that Windows Mobile 6.1 provides.

Users can quickly respond to business and personal email, access the web, stay on top of appointments and contacts, and use Wi-Fi or GPS on the go.(1) Treo Pro's thin design blends a flush, high-resolution color touch screen and a full QWERTY keyboard with a removable battery that packs up to five hours of talk time and enough strength for the business user's needs, offering a powerful yet effortless mobile experience.

"I'm really happy with Treo Pro — it's a technology leap from a device design and capability standpoint, enhancing Palm's presence in the Windows Mobile realm," said Wasif Malik, senior systems consultant, Student Educational Services & Mobile Solutions, Ohio State University Medical Center. "It's cleverly designed for Windows Mobile, with a large touch screen, Wi-Fi, Bluetooth and all the productivity applications for Windows Mobile 6 in a much thinner design."

Palm Experience on Windows Mobile 6.1 Professional

The Treo Pro smartphone, based on the popular Windows Mobile platform, helps optimize business processes by effortlessly mobilizing users with enhancements to the Windows Mobile 6.1 platform, including:

– One-touch Wi-Fi button — Easy, fast Wi-Fi connection experience (802.11b/g).(1)

– Today screen enhancements — Web search directly from the Today screen.

– Ringer switch — Silences the device immediately.

– Screen saver — Lets users know at a glance — without turning on the device — what time it is and whether they've missed a call or have a new SMS/MMS message.

– New voicemail indicator — The center button flashes to let users know that a voicemail is waiting.(3)

– Dedicated email and calendar buttons — Fast one-button access.

"Windows Mobile is delivering mobile solutions that help businesses address the changing competitive landscape," said Andrew Lees, senior vice president of Microsoft's Mobile Communications Business. "The Treo Pro smartphone brings together a powerful combination of Palm's feature innovations and Windows Mobile 6.1, providing access to the information people need when away from the office."

Lower Costs, Increased Productivity

With Treo Pro, businesses can quickly and easily deploy a secure, low-cost and compatible infrastructure for their mobile workforce by taking advantage of a tightly integrated Palm and Windows Mobile 6.1 solution, including:

– Microsoft Direct Push Technology(4) — Direct connection to Microsoft Exchange Server 2003 SP2 or 2007 gives users up-to-date email, contacts and calendars.

– Microsoft System Center Mobile Device Manager 2008 — With the deployment of Mobile Device Manager, the Treo Pro can deliver increased security, easier smartphone management, and access to information on the corporate network. IT professionals can confidently manage large Treo Pro deployments.

– Thousands of applications available for Windows Mobile — Businesses can extend mobility beyond email to optimize business processes.

– World phone — With high-speed UMTS/HSDPA network capabilities(5), Treo Pro is a sleek world phone that's ideal for companies with an international work force.

– Integrated GPS — Users can access maps, turn-by-turn directions and point-of-interest (POI) searches.(1)

– Support and training — Palm shortcuts make Treo Pro so easy to use, businesses can spend less on training and support for their users. End-to-end enterprise support means companies can expand the scope of their mobile deployments without putting a strain on internal support personnel.

– Familiar Windows experience — Users can browse the web with built-in Internet Explorer Mobile; open, view, and edit Word and Excel compatible files; review PowerPoint presentations and PDF files; and open ZIP files remotely.

Pricing and Availability

Treo Pro will be available in September in Europe(2) through Vodafone (from free to EUR 399 with contract) and O2 (pricing is available from O2 direct sales and online business stores), and in Australia through Telstra (from free with contract). It will be available in the United States in the fall through the Palm online store (http://www.palm.com/store) as well as select Internet, retail and enterprise resellers for a suggested retail price of $549. The U.S. version is unlocked and unsubsidized, giving end users the flexibility to simply insert their existing active SIM card and immediately start using their Treo Pro without a new contract.

Detailed regional pricing is available from local resellers and distributors. Additional Treo Pro availability is scheduled to follow worldwide.

The Treo Pro smartphone comes with an international power charger, microUSB cable and a stereo headset (3.5mm). Other accessories designed exclusively for Treo Pro (sold separately) include a vehicle power charger, leather side case, travel microUSB cable, cradle, extra battery, TTY audio adapter, and replacement styli.

More information about the Treo Pro smartphone is available at www.palm.com/TreoPro