Palm Pre tipped to have native iTunes compatibility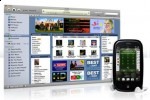 Apple's iTunes software reportedly synchronizes with the upcoming Palm Pre smartphone, working "seamlessly" aside from an inability to handle copy-protected media.  According to Fortune, the iTunes Store "treats the Pre just as it would an iPod or an iPhone", opening up the possibility of music and video downloads to the handset.
The functionality was tipped back in January, when Palm VP of design Peter Skillman demonstrated the smartphone on video and mentioned that it could be synchronized with iTunes.  However we're yet to see third-party confirmation, or any official word from Palm themselves.
If true, this could lead to more headaches between Palm and Apple, the latter of which have been vocal in the past about rivals deemed to have "ripped off" their intellectual property.  Still, the temptation of a more streamlined handover from iPhone users dumping their Apple devices and picking up a Pre instead must have been too great a temptation for Palm to resist.
[via My Pre]