The brand Palm revealed a new "phone" today that looks nice and has very little reason to exist. Much in the same way the first wave of smartwatches' first job was to solve a problem that did not exist, this first Palm smartphone for the year 2018 is tiny, beautiful, and quite unnecessary. It has a 3.3-inch display and it's coming to Verizon this November!
UPDATE: Palm went so far as to make a chart comparing its product to a smartwatch. They suggested that the Palm Companion has "Ultra mobility" as well as Fitness Sensors – the same as a smartwatch, but that this phone has several key features with which a smartwatch does not come. A "full Android app ecosystem," cameras (real and selfie), full keyboard messaging, and an "expanded accessory ecosystem."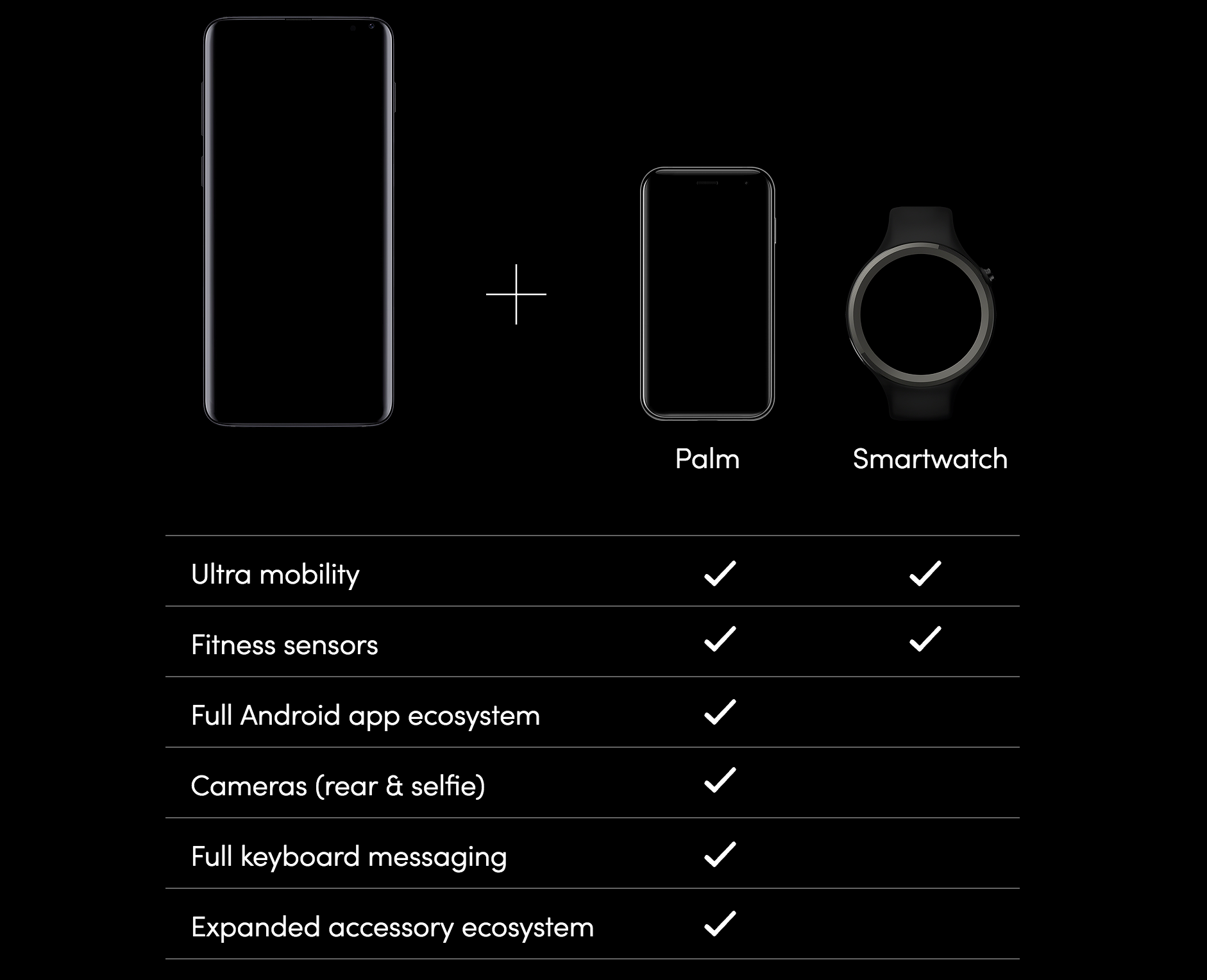 A reason to exist
So you've got a phone already, and you don't need a new phone, but you'd like something new. You want another phone that looks nice but is smaller than the phone you've got now. You want a smartphone that's basically a fully functional Android smartphone, but is marketed as a companion for the phone you've already got working in your pocket.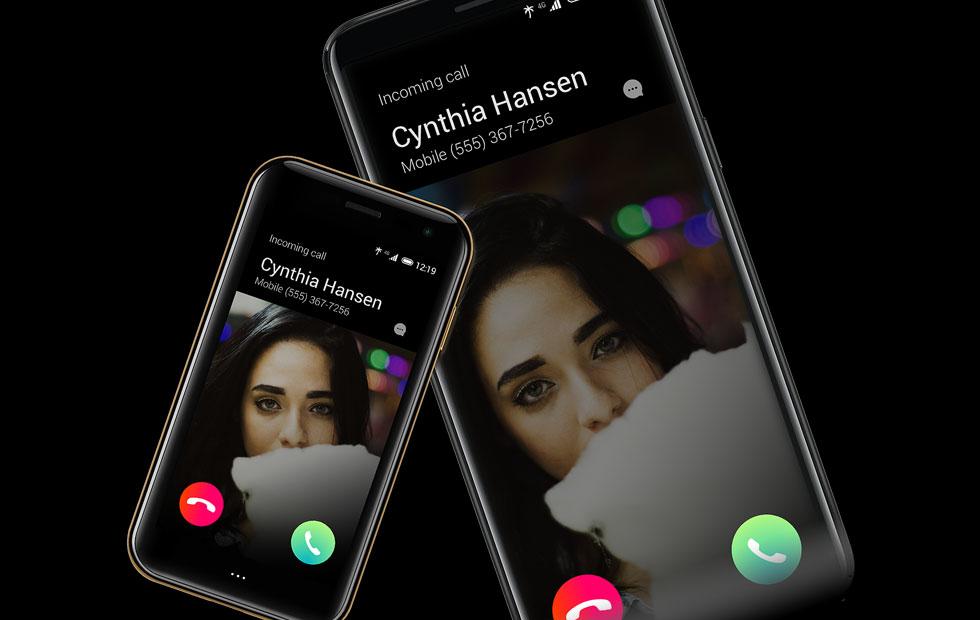 This is the Palm Companion. It's a smartphone, but it's also not quite a smartphone in every sense of the word. They're marketing it as a device that's "establishing the new ultra-mobile category."
Life Mode
Perhaps the best part about the Palm Companion is a "Life Mode" software feature. This feature isn't all that different from turning off mobile internet and/or phone connectivity from your phone, but they've made it all a bit more easy to swallow.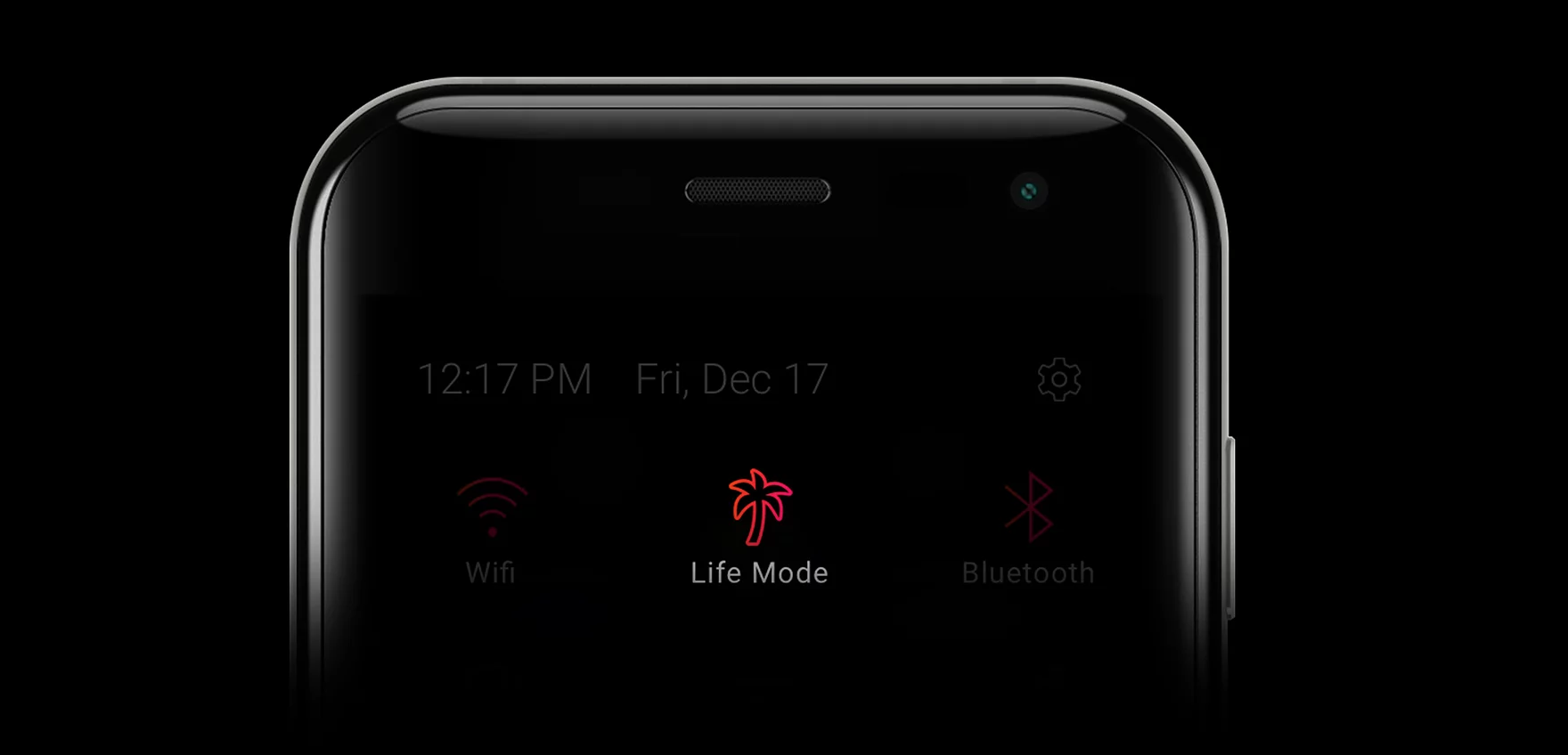 "Life Mode silences incoming calls and notifications every time the screen is off, unless you're on a call, streaming music or using GPS. When you wake the screen, your Palm becomes fully connected again." They suggest that this mode "eliminates digital distraction so you can be in the moment without feeling disconnected from your digital world."
Life Mode allows the user to select apps that are able to send notifications when the device's display is off. When the device's display is on, all notifications come through. "Whether it's text messages, phone calls, or Instagram DMs, you can choose which apps can get your attention, and what can wait."
Specs and Price
The product itself is pretty OK – if you're considering buying a new phone. As a companion product that I'm not beginning to be sold on just yet, I can't even begin to recommend you consider buying. Have a peek at these specs:
• Processor: Qualcomm® 435 processor. Octa-core CPU
• Display: 3.3" HD Display – 445 ppi high pixel density LCD
• Glass: Impact resistant front and rear Corning Gorilla Glass
• Cameras: 12MP rear camera with flash + 8MP front camera
• Construction: Crafted billet aluminum mid-frame
• Durability: IP68 water and dust resistant
• Memory: 3 GB RAM / 32 GB Storage
• Battery: 800mAh non-removable battery
• All-day battery life*, 3+ day standby time
• Audio: Dual-purpose speaker
• Sensors: G-Sensor, Glonass GPS, Proximity, E-compass, Gyro
• Connectivity: 4G LTE, Bluetooth 4.2 low energy, WLAN 802.11 b/g/n (2.4GHz), Non-removable nano SIM
• OS: Android 8.1
• Security: Face unlock
• Dimensions: 50.6 x 96.6 x 7.4mm
• Weight: 62.5 grams
• Colors: Available in titanium and gold
This smartphone will be sold by Verizon starting in November. There it'll be exclusive to the carrier and it'll cost a cool $350 USD. Users will be able to buy the phone on its own, or they'll be able to pay an extra $10 a month to use Verizon's NumberShare service to use the same number on the Palm as they use on their main smartphone. This phone was manufactured by the same folks as brought back the newest wave of phones from BlackBerry: TCL Communications.