Palm launch paid webOS apps, review-free web distribution & analytics access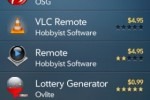 Microsoft may have hoped their Windows Marketplace for Mobile would dominate app store news today, but Palm are having none of it.  The company has just launched paid software in the webOS App Catalog, together with adding a few more free titles, with a fresh injection of almost thirty new apps.  Meanwhile, they're also broadening their appeal to the open-source community.
In a developer event late yesterday, Palm revealed that it would be enabling developers to release their applications via the web, rather than solely through the App Catalog; Palm will provide a link for downloaders for each new title submitted in this way, but not run the apps through checks as it does for the existing download store.  Meanwhile they've also confirmed that they'll be waiving the regular $99 annual fee for webOS developers if the software they're producing is open-source.
The new, web-based download system will basically require developers to submit a new title to Palm, at which point the company will assign it an URL and the app will be immediately ready to download.  While this opens up the door to more speedy updates, faster – or in fact non-existant – approvals and the like, it does mean that users will have to be more aware of the potential for dangerous titles that could unpleasantly affect their webOS device.  Still, the App Catalog will be available for those nervous users, and of course it's the only feasible way at present that applications can be purchased.
Finally, Palm announced that it would be loosing its analytical data for developers to examine, something Apple don't allow iPhone developers to do on their platform.  For the full list of new applications added today, check out the list at My Pre