Paco living cube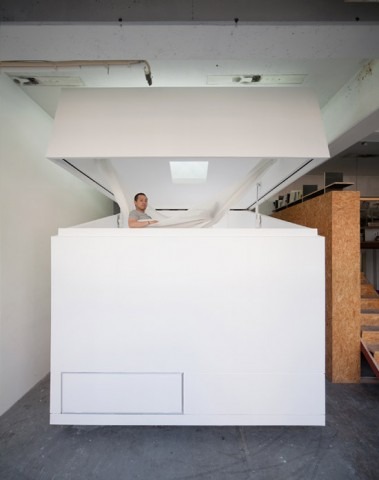 Ask architects Sschemata and designer Jo Nagasaka about the future of minimalist housing, and they'll tell you it's a big white box.  A 3m-square cube called Paco, in fact, their all-in-one living pod that apparently has everything you (minimally) need to live, plus a big flip-up lid.
Inside there's a hammock, suspended from the lid so as it lifts you get a better view, together with a low table that lifts out the floor, a sunken toilet which, with a curtain, doubles as a shower tray, and a small bathroom block.  Underneath Paco there's a low "guest quarters" slot, perfect for anybody who isn't afraid of being buried alive.
The concept is that Paco could be placed anywhere - filling an old warehouse, on the side of a mountain or near the beach – in fact wherever living accommodation is needed.  No plans for production as of yet.
[via designboom]