Packard Bell iPower X2.0 gaming PC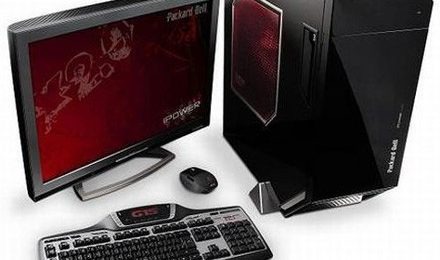 It subscribes to the "built like a shuttle-bay door" school of design, but look past the vents and bulges and Packard Bell's iPower X2.0 gaming PC should be pretty impressive.  While various levels of spec exist, the only one we're really interested in is the top-end, Intel Core 2 Quad machine: 8GB of RAM, a healthy 3TB of storage and Asustek watercooling.
Graphics are courtesy of NVIDIA's GeForce 9800 GX2 video card, which gives you a choice of HDMI or DVI outputs, plus there's a Blu-ray drive for those moments when you'd rather eat popcorn than shoot people.  The three 120mm cooling fans are apparently silent, and there's plenty of space in the bulging case to fit more drives; you also get 7.1 HD audio and a boggling 21-in-1 card reader.
Basic entry to the iPower X2.0 club starts at £999 ($1,486, but we're talking about rip-off Britain prices here, remember) but the top-end monster described above will come in at an unspecified figure far higher than that.  UK gamers can keep an eye out for it hitting stores come January 2009, though entry-level models should be on shelves by the end of this month.
[via electricpig]