OZAKI O!photo Lens Case for iPhone 4S hands-on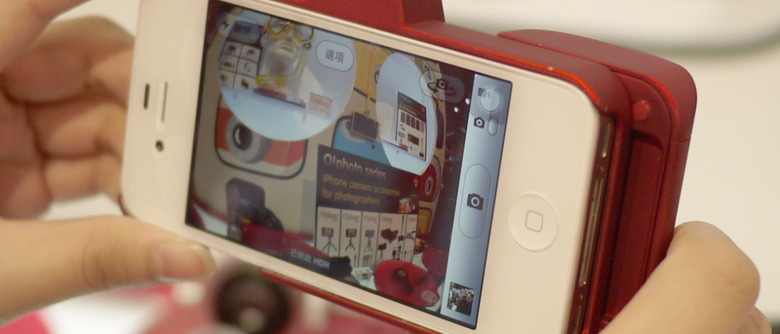 It's not the easiest thing in the world to differentiate yourself from the ultra-large mass of companies trying to get a piece of the iPhone case cake, so when we find a group that appears to be up to the job, we take that opportunity – and that opportunity has presented itself in the form of OZAKI, a group whose upcoming O!photo lens case for the iPhone 4S has our eyeballs lit right up. This case is made of hard plastic, has a screw hole at the top to place your own flash or lamp, and has a big bumper on the right so you can more naturally hold the whole rig. Below the bumper there's another screw hole for a tripod, and there's a lens hole in front of your iPhone's camera lens so you can add a variety of extensions.
This setup comes as a kit and includes a fisheye lens, a 12 telephoto lens, and more, and will hopefully by the time it comes out have a converter lens to accept any manner of odd lenses you can think of. This case is unique in that it'll not only protect your device to a degree, it'll allow you to use your iPhone camera, for many people their only camera, in some higher than intended ways. Get that greater quality photo with lenses galore!
This setup is not yet priced, but as our host Miss Chou lets us know, we've not got a long wait before it's going to be released worldwide. You can currently also purchase several other accessories in the O!photo line from a variety of vendors around the world, each of them mapped out at Ozakiverse.com. We look forward to the expansion of this lovely brand!