This week we had the opportunity to have a chat with Sony Pictures Imageworks on how they brought the next generation of L Frank Baum's "Oz" universe to life in the prequel: Oz the Great and Powerful! Our chat began with Sony Pictures Imageworks' Senior Visual Effects Supervisor Scott Stokdyk, who let us know first and foremost his role with the film. We then quickly launched in on how the movie creates not just a re-entry into this magical environment for fans of the classic "Wizard of Oz" picture, but also – and especially – lovers of the original book series from whens the whole universe is born.
Stokdyk's role in the creation of this movie began 2.5 years ago, working directly with the director of the film, Sam Raimi. With Raimi, Stokdyk broke down each element in the storyline piece by piece, speaking about how they'd go about creating each visual effect that would need to exist. After knocking out the script for a period, Mr. Stokdyk headed to Detroit for 7 months of filming the movie on soundstage, working after this for over a year in post-production.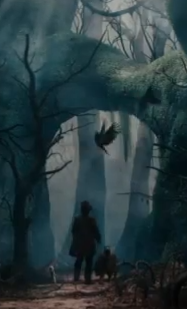 As Visual Effects Supervisor, Stokdyk worked with the fabulous Sony Pictures Imageworks, a group we've had some rather fruitful conversations with in the past, to be sure! For those of you who have that tingling feeling you've heard Stokdyk's name before, you'll be glad to know you're right: he's previously worked with Sam Raimi on each of the Spider-Man movies (1, 2, and 3) as Visual Effects Supervisor as he does on the one we're discussing today and has worked in different effects roles on such classic films as Titanic, Contact, and The Fifth Element.
According to Stokdyk, in both Oz the Great and Powerful and in the film industry in general, the way an effects-inclusive movie can distinguish itself is simple (so to speak). As Stokdyk says, "In Visual Effects nowadays, there's basically effects work, there's character work, there's environmental work – and what distinguishes one show from another nowadays is it's own unique combination of how those pieces work together and how they're Art Directed together."
Seems simple enough to say, right? Stokdyk continued, "[This film] has a nice blend of character animation that's stunt and action oriented – and performance based – interacting with the real actors. We've also got really fantastical environmental extensions of sets. They bring into this fantastical world of Oz what we've shot on set."
You'll be seeing your fair share of fantastic effects-dependent shots and characters throughout this film which – if you did not know – is out in theaters now! Featured computer-generated characters you'll be seeing throughout the film include: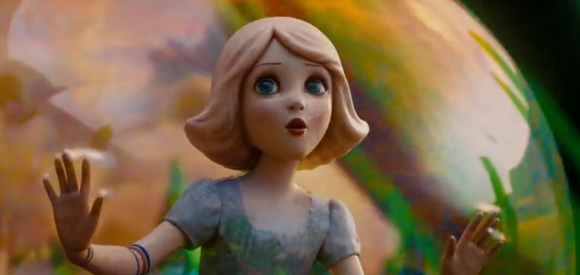 The China Girl – this little lady is a porcelain doll that our hero Oz finds after her town is destroyed in the film. She's voiced by Joey King and trots along with fully realistic features from top to bottom.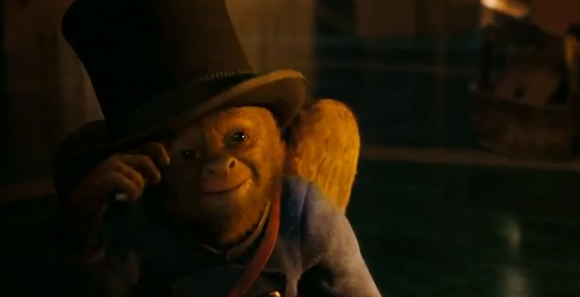 Finley the Flying Monkey – a cute little beast voiced by none other than your best buddy Zach Braff. This lovely beast also accompanies Oz throughout the movie and has one whole heck of a lot of fur that needed digital brushing – not to mention the rest of his fully-animated monkey body.
[aquote]The most technically challenging production Imageworks' has completed to date.[/aquote]
Both Braff and King took part in filming their parts as the monkey and he doll throughout principal photography, allowing the rest of the actors to act and respond in a much more organic way than traditional CG replacements would have allowed. Once filming was complete though, it was all up to the effects teams to bust forth with what Sony Pictures Imageworks describes as "the most technically challenging production Imageworks' has completed to date."
The group notes that they completed over 1,100 shots that appear in the final product, these including every single one of the GC environments and character shots. You'll see digital doubles of each of the main characters: Oz, Glinda, Theodora, Evanora, and Knuck. You'll see "thousands of flying baboons including three unique hero baboons." You'll see massive amounts of CG creatures including "attacking snapdragons, horses, various insects, butterflies, birds, flying fish, wooden horses, lion, squirrel, and river fairies". You'll see giant digital crowds of characters across the countryside and inside the city.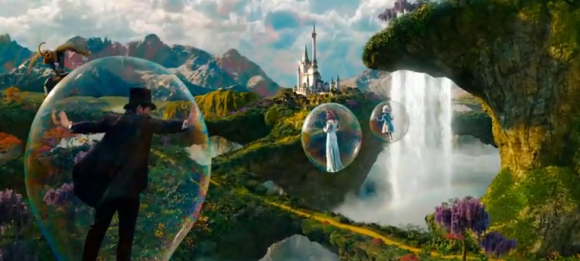 Some of the most awesome bits and pieces you should look out for while you're experiencing this magical mix of fanaticism are:
• Glinda's Magic Bubbles
• A shimmering wall around Glinda's countryside and village
• Theodora's Fire Tornado
• The Oz hologram
• Water effects galore
• Massive poppy fields
• China Town
• Emerald City – including "the main gates, boulevard, central square, back gate, back
alley, bell tower, palace, dais, vaulted corridor, Throne Room, Room of
Resplendence, balcony and bridge digital sets and huge aerials of the city"
• Fog!
And for those of you that are worried that this is another one of those films that destroys the experience of moviegoing with a heavy overdose of effects-driven shots, don't fret! According to Stokdyk, they were certainly conscious of how easy it could have been to OD.
Stokdyk: You have a certain number of shots in any movie that are all computer generated, right? You just can't shoot them, or there's a prop that's too expensive to shoot, or you shoot them in post after you've shot them in principal photography. We certainly had a decent chunk of those kind of shots, but after you've gone all CG, and done everything in the world CG, where's the boundary? Where's the next frontier after that?"
As Stokdyk tells us, so too must it be true! Expect the most awesome combination of art direction, live action, and CG you've ever seen on a film of this kind – start to finish!