OWC Mercury Pro Blu-ray burner: FireWire 800/400, USB & eSATA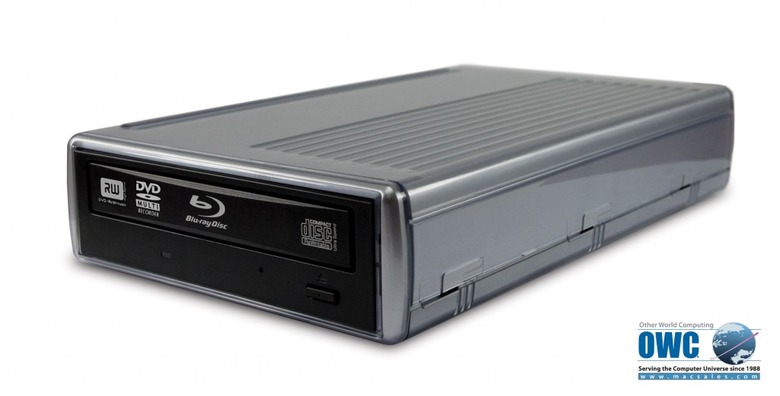 OWC have announced their latest Mercury Pro Blu-ray/SuperDrive "Quad Interface" External Drive, offering Blu-ray and DVD burning for any PC or Mac with FireWire 800, FireWire 400, USB 2.0 or eSATA connectivity.  The new Mercury Pro also doubles the burn speed of the previous-generation version.
In fact the OWC burner can write to Blu-ray discs at 8x speeds, amounting to up to 2GB per minute.  DVD burn speeds, meanwhile, are up to 16x, while CDs can be toasted at up to 32x rates.  According to OWC it's plug & play on both Macs and Windows machines, and works with "most" built-in and third-party disc authoring software.
Available now, the OWC Mercury Pro Blu-ray/SuperDrive "Quad Interface" External Drive is priced at a not-inconsiderable $399.99, including all cables and two 25GB Blu-ray BD-R discs.  Alternatively $479.99 gets you the drive, the discs and cables, plus the full retail version of Roxio Toast 10 Titanium.Press Release:
OWC ANNOUNCES FASTER MERCURY PRO 8X BLU-RAY DRIVES WITH FIREWIRE 800/400, USB2, ESATA"QUAD INTERFACE"

Only "Quad Interface" Blu-ray Drives on the Market

TWICE AS FAST as Previous Mercury Pro Blu-Ray Solutions

Write/Burn Blu-Ray up to 8X speed, DVDs up to 16X and CDs up to 32X speed

February 24, 2009, Woodstock, IL — Other World Computing (OWC®) http://www.macsales.com, a leading Mac and PC technology company, announced today its newest OWC Mercury Pro™ Blu-ray/SuperDrive "Quad Interface" External Drive solutions featuring super-fast 8X Blu-ray write speeds of up to 2GB per minute. The Mercury Pro Blu-ray "Quad Interface" External Drives are the only Blu-ray burners on the market that provide the flexibility of a "Quad Interface" of FireWire 800, FireWire 400, USB 2.0, & eSATA interfaces for Plug & Play compatibility with both Windows and Macintosh systems.

Burn 50,000 JPEG Images, 17,500 MP3 Songs, or 25 DVD Movies on a Single Disc!

Available immediately priced starting at $399.99, the Mercury Pro Blu-ray External Drives are ideal for consumers with large amounts of High-Definition or other video, photos, music, and data files that they want to author, archive, or retrieve using a single disk. With twice the Blu-ray burn speed over earlier Mercury Pro models, the new Mercury Pro Blu-ray External Drives are capable of burning 50GB of data — equal to 50,000 JPEG images, 17,500 MP3 songs, 25 DVD quality movies, or just under four hours of High Definition video — onto a single disc as quickly as 30 minutes. Additionally, Mercury Pro Blu-ray drives read and/or write virtually all optical media, including DVD-RAM, DVD Dual-Layer R/RW, DVD R/RW, and CD-R/RW, as well as Blu-ray.

Pricing for OWC Mercury Pro Blu-ray "Quad Interface" External Drive solutions:

OWC Mercury Pro "Quad Interface" External Drive (Model BDR-203X): $399.99. Writes and reads Blu-ray up to 8X, 16X DVD, and 32X CD Burn Speeds. Includes all connection cables and two 25GB BD-R discs.

OWC Mercury Pro "Quad Interface" External Drive (Model BDR-203XT) with Roxio software: $479.99. Writes and reads Blu-ray up to 8X, 16X DVD, and 32X CD Burn Speeds. Includes all connection cables, two 25GB BD-R discs, and full retail version of Roxio Toast 10 Titanium.

"With Blu-ray write speeds twice as fast as the previous OWC models, as well as the ability to read/write DVDs and CDs, these new OWC Mercury Pro Blu-ray External Drive solutions give anyone with digital entertainment and general data files the ability to dramatically reduce the time and amount of media required to create general use and archive discs," said Larry O'Connor, CEO, OWC.

The OWC Mercury Pro Blu-ray "Quad Interface" External Drive solutions have been fully tested for compatibility with most Apple and Windows built-in and third party DVD/CD tools and players, including Apple iTunes, Apple Disc Burner, Apple iDVD 5, Apple DVD Studio Pro, EMC Retrospect Express, NTI DragonBurn, Roxio Toast, Roxio Easy Media Creator, and Nero Burning.

For more information on the OWC Mercury Pro Blu-ray external drive solutions, visit:

http://eshop.macsales.com/shop/firewire/optical-drives/