OWC Envoy Pro Mini SSD USB released, 120GB to 480GB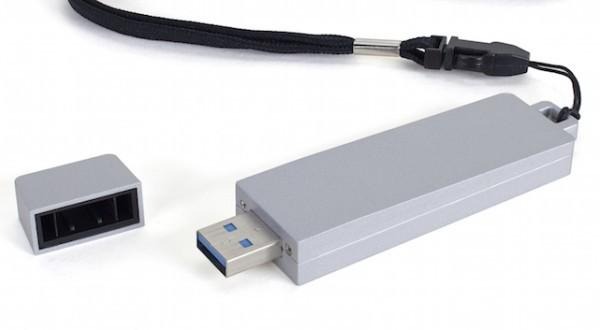 Other World Computing (OWC) launched its latest collection of thumb-sized solid state drives (SSD) today at an industry trade show in Las Vegas. OWC's Envoy Pro mini SSD utilizes a USB 3.0 port and can run on Mac, PC or Linux. The biggest point that sets SSD drives apart from traditional USB drives is the transfer speed. This OWC model can sustain speeds of up to 433 Mb/s and has a max speed of 500 Mb/s.
You could keep an entire OS on the device and use the mini SSD as a boot drive to start Windows or Mac OS X, which could save valuable space. This would be especially useful on some of the latest ultralight laptops that tend to be light on storage space as well.
For movie makers, the speed would be ideal for producing 4K videos, transferring large files, or saving detailed CGI animations. IT pros could use the pocket-sized drive to as a boot drive to repair computers or as a way to carry valuable large files around to various workstations.
The OWC Envoy Pro mini SSD is available in 120GB for $119 USD, 240GB for $199 USD, and a 480GB version will be coming soon and should retail for $599 USD. This is slightly more expensive than the comparable Vision Tek SSD thumb drives. All Envoy Pro models also come with a 3-year limited warranty.