It seems that most people who want to play Overwatch would have already bought it by now, but if you're one of those few hold outs, then you'll definitely want to set aside some time next week. Blizzard has announced another free promotion for Overwatch, and this one will last almost an entire week. It'll be happening over the Thanksgiving holiday too, which is usually a period when most people have some extra free time.
Beginning on November 20 – or early on November 21 in some parts of the world – Overwatch will go entirely free-to-play for everyone on PC, Xbox One, and PS4. It'll stay that way until November 26 at 11:59 PM PT, giving you the entire holiday weekend to play.
In a post to the Overwatch blog, Blizzard explains that this is the full game that's being offered for free – those who participate will be able to play all of the game's 29 heroes (including the newest one, Ashe) across all maps and modes. It's worth pointing out that Xbox Live Gold and PlayStation Plus are required to play Overwatch during this free trial, so if you're planning to hop in, make sure your subscription is up to date.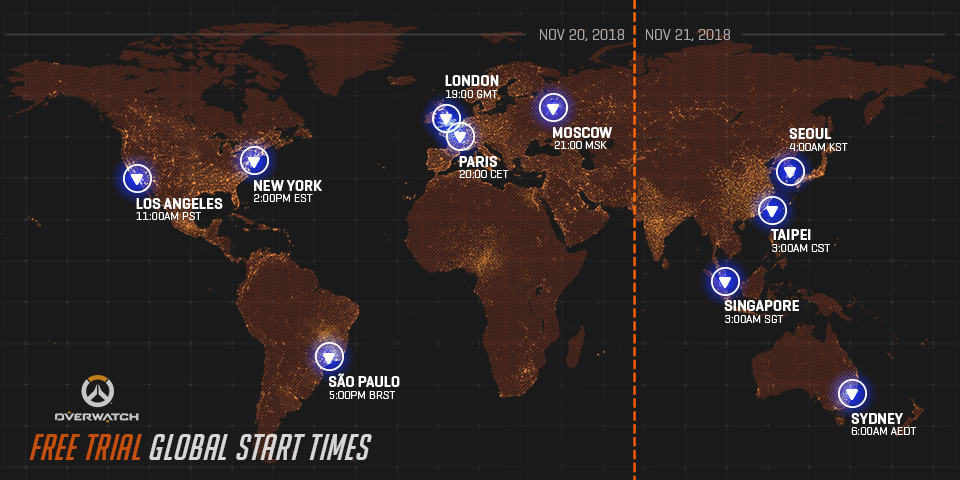 As is usually the case during one of these free trials, any progress you make will be kept if you decide to buy the game. That means account levels, stats, loot box items will carry over to the retail version, though achievements and trophies have been disabled for free players.
You can check the image above for start times in many regions around the world. Those who already own Overwatch can still get some freebies during the free trial period by watching Overwatch on Twitch. As long as your Battle.net and Twitch accounts are linked, you'll receive three Ashe-themed sprays for watching two cumulative hours of Overwatch streams between November 20 and November 26.
Blizzard runs these free Overwatch promotions from time to time, but usually they only come in the form of a free weekend. It's rare to see Overwatch go free for more than a few days at a time, so if you don't have the game yet but you're interested in checking it out, be sure to take advantage of this promotion next week. Will you be playing Overwatch over the holiday? Head down to the comments section and let us know!