Over 30 WinMo 6.5 Devices By End Of 2009 Says Microsoft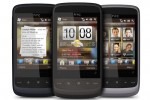 Windows Mobile 6.5 may be arriving relatively late in the year – October 6th being the day pegged for the next-gen smartphone platform – but that hasn't stopped Microsoft from making some healthy predictions about how many devices there'll be on the scene by the end of the year.  According to Benjamin Tan, senior director of the GCR Mobile Team Unit at Microsoft China, more than 30 WinMo 6.5 handsets are expected to launch by the end of 2009.
Manufacturers tipped to be adopting the new platform include HTC, Acer, Samsung Electronics, LG, Sony Ericsson, Toshiba and HP.  No great surprises there, but it does suggest that anybody who has dismissed Windows Mobile as a non-competitor has likely spoken too soon.