Outlook mobile Calendar Apps integrate Wunderlist, Evernote, Facebook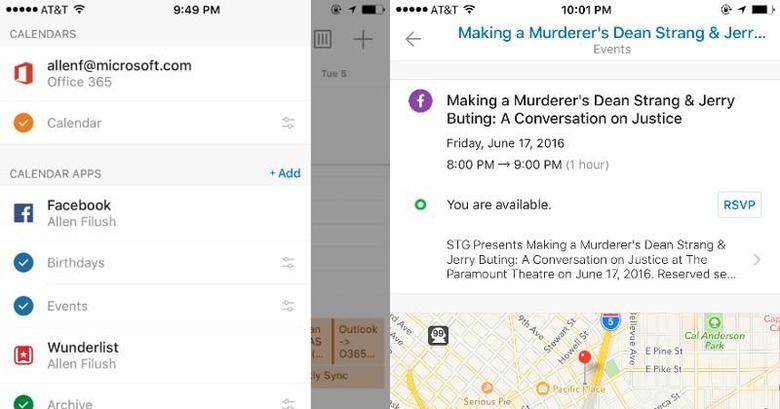 When Microsoft bought with a mind to shutting down the popular Sunrise calendar, many users had to unwillingly give up on one of its most compelling features. Sunrise allowed users to compile calendar events and appointments from different sources and services into a single view. Microsoft, however, wasn't completely killing Sunrise of, at least to some extent. Today it is announcing a new Calendar Apps feature for its Outlook mobile apps on iOS and Android, which is practically the integration of those very same features inside Outlook itself.
Before Microsoft acquired it, Sunrise already boasted of quite a number of integrations with different services and calendars. Given its working with a slightly new platform, in other words, Outlook, Microsoft had to begin somewhat from scratch and start off with fewer Calendar Apps. Right at the top of that list is Wunderlist, also now a Microsoft property, Facebook, and Evernote.
Wunderlist was once synonymous with todos and almost anything you can keep in a list. Although its fame as just so slightly faded, it remains a strong contender in the market. Microsoft, on the other hand, doesn't really have a dedicated and fully featured cloud-based to-do list software. With Outlook and the new Wunderlist integration, it now has the perfect combo. However, not everyone lives off their calendars or todo lists. Believe it or not, some do live in Facebook as well. Integrating with Outlook means that, when looking at your calendar, you are less likely to miss that important someone's birthday next week, giving you enough time to send for the perfect gift. And while Evernote is more seen as a note-taking app, it also does have its own Reminders feature. Now you don't have to worry too much about forgetting those as you will be able to see them inside Outlook as well.
The integration isn't completely two-way, as you it doesn't seem you will be able to add new items into Wunderlist or Evernote from within Outlook. However, it's not a purely static relationship either. You can, for example respond to RSVP Facebook events from inside Outlook, or open related Wunderlist or Evernote notes with a single tap.
This is just the tip of the iceberg, says Microsoft. Outlook will be carrying on Sunrise's legacy, albeit without the Sunrise name. Coming next will be integration with Skype for Business and Outlook, but Microsoft is also soliciting ideas from users for future Calendar Apps.
Update: Microsoft tells us that Sunrise isn't dead, at least not quite. Outlook will eventually replace it, yes, but Sunrise will remain available until all of its features are fully integrated into the new app.
SOURCE: Microsoft