Outlook.com: Hotmail users find themselves rebranded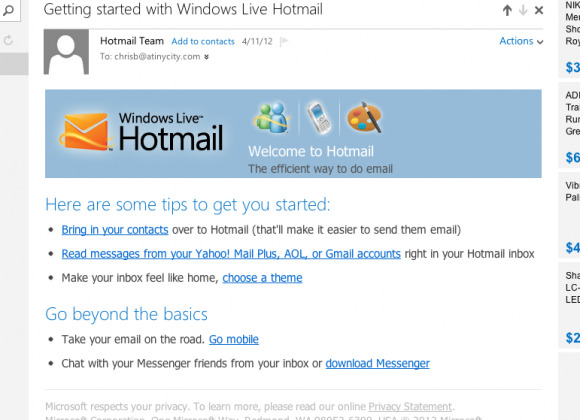 This morning Hotmail users are finding themselves in a whole new world of email organization – so new, in fact, that their Hotmail login no longer leads them to Hotmail, it goes to Outlook.com instead. This move by Microsoft has users baffled, in some cases, and furious in others. One thing that's true amongst all of them is the fact that Hotmail is gone – and Microsoft's new Metro user interface and total re-formatting of the beloved legacy email service Hotmail is here to stay.
The first thing you may be asking yourself is: where did my Hotmail go? If you asking where the emails go that you had in your Hotmail account went, the answer is simple: they're still there, it all just has a brand new name over the top of it: Outlook. Your Hotmail account, account information, emails, and logins are all the same – unless you want to change them, of course.
Users wishing now to switch their email address from name@hotmail.com to name@outlook.com have simply to click on "More mail settings" in the menu under the gear in the upper-right of their screen. From there, you've only got to click "rename your email address." Simple as that. You've also got the option to keep your old email address if you've been working with hotmail.com, msn.com, or live.com of course.
The new Outlook webpage you're working with allows you integration with Skydrive cloud storage as well as Office Web-based programs immediately or in the near future. You've also got Skype video chat options coming up soon, and Facebook and Twitter are part of the show as well. If you've not been using a Microsoft webpage for your email in the past, now's the time to start – Outlook.com is taking new users with no restrictions as we speak. Head to the timeline below for more information on Outlook.com and it's future as well!