Outlook Calendar update brings new Skype features, icons to iOS and Android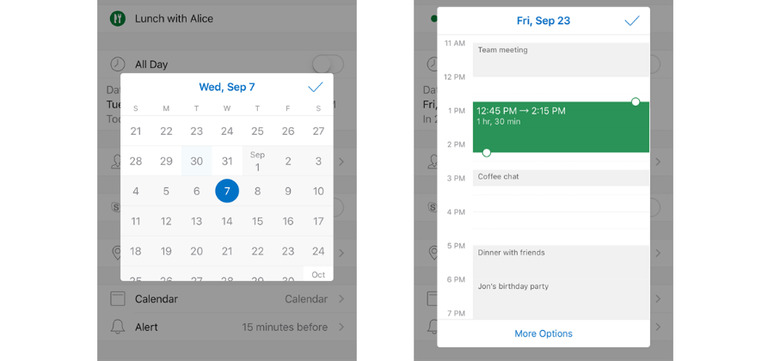 Microsoft has unleashed a new update for Outlook on iOS and Android, bringing a handful of quality-of-life improvements to the app's calendar feature. While some of these are geared more toward your personal life, most of them have some sort of application in the professional world, giving users changes that are centered around making the calendar easier to use and edit on mobile devices.
On the professional side of things, users will now find that they can create meetings that will be held using Skype for Business by flipping the new Skype toggle when creating an event. This is the next step in Microsoft's Skype integration with Outlook, as flipping the Skype toggle will show your company's Skype information in the event's description and allow those invited to join the call from within the event once the meeting is underway.
Microsoft has also added a new maps function to the Calendar on Outlook, putting a map in the description of an event when it sees that a location has been added to its details. Recurring meetings can now be edited within the Outlook mobile app, giving users the ability to implement these changes for a single instance or every meeting from there on out, and improved date and time options have been rolled out as a means of making scheduling meetings and events faster and easier.
Event Icons are one of the more impressive new features being rolled out today, adding icons to events based on their title so you can see at a glance what you have coming up – typing "coffee," for instance, will display a little coffee cup next to the event itself in your calendar. Finally, Microsoft has added an update to Interesting Calendars, which now allows you to sync up your personal calendar with those of your local sports teams, with Microsoft saying that other features like TV schedules will be added soon.
All in all, this is not a bad update for Outlook on iOS and Android, especially if you found the Calendar lacking on the mobile version of the service. These updates are rolling out today, though Microsoft says that Skype for Business functionality may not be live for all users right away.