Outdoor Technologies Turtle Shell bluetooth speaker hands-on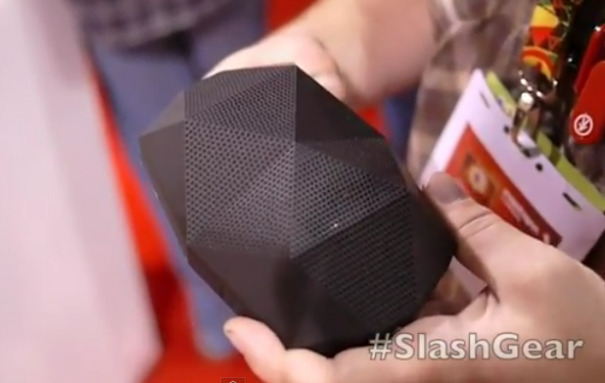 There was a trailer full of goodies in the middle of a hall at CES 2012 with one gigantic gorilla man logo on the side, this being Outdoor Technologies, a group that's about to explode onto the scene with such gems as their waterproof cases for iPhone and this, their wireless boombox "Turtle Shell." This device is made for your hardcore activities such as biking, hiking, and camping as its both waterproof and fully mountable. Attach it to your bike, your rucksack, or even yourself!
This device is still likely several months off from actual review units or a full release, but full waterproofing on a speaker that'll connect to any of your bluetooth-enabled devices is fun to consider! It's also got both a built-in mic so you can use this monster as a speakerphone whenever the situation calls for it. The speaker is also shock and dust-proof incase you drop it down the side of a short cliff – though I'm sure they don't suggest whipping it into a canyon just for testing.
The Turtle Shell's current iteration comes with a flexible cord that lets you attach it easily to any variety of items in your traveling arsenal, the prospect of slapping it on a BMX bike seeming to me to be the most awesome possibility. The device will be able to run on 10-hours with Hi-fidelity sound with 240 hours of standby on a single charge, and gets charged up with a simple mini-USB jack.
The bluetooth range on this beast is 33 feet, you can connect it to your headphone-jack-having device with its simple 3.5mm jack as well, and both release date and pricing are not yet official. Expect this device in late summer at the earliest for something around $130 – blue please!