OS X Mountain Lion update brings 10.8.1 software fixes
Users of Apple's newest operating system OS X Mountain Lion are finding a brand new software update ready for them this week containing upgrades for both iMessage and Migration Assistant as well as bug fixes galore. This update will bring users up to version 10.8.1 and is a completely free download. If you'd like to grab this download, head to the Apple symbol in the upper left-hand corner of your screen, click, and find the "Software Update" menu option.
Once you do upgrade, you'll find that you're running just a bit quicker and that several bugs you may or may not have noticed recently are completely fixed up. Apple's upgrade list includes several small fixes as well as an "unexpected quit" error appearing in Migration Assistant more often than the software and hardware company was comfortable with. Per Apple, their upgrade list reads as follows.
• Resolve an issue that may cause Migration Assistant to unexpectedly quit

• Improve compatibility when connecting to a Microsoft Exchange server in Mail

• Address an issue playing audio through a Thunderbolt display

• Resolve an issue that could prevent iMessages from being sent

• Address an issue that could cause the system to become unresponsive when using Pinyin input

• Resolve an issue when connecting to SMB servers with long names

• Address a issue that may prevent Safari from launching when using a Proxy Automatic Configuration (PAC) file

• Improve 802.1X authentication with Active Directory credentials.
NOTE: Check out our full OS X Mountain Lion review if you've not already downloaded the software yourself – it's a winner!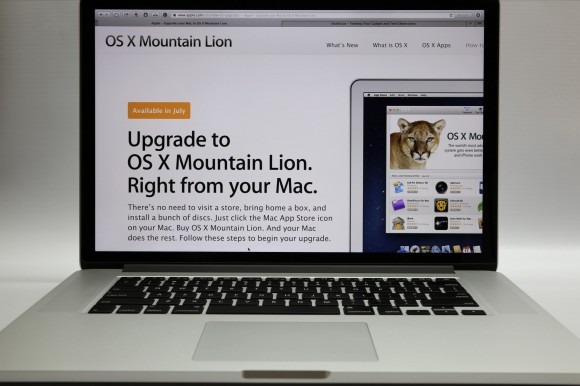 For a full list of upgrades, you can head to Apple's full upgrade page at http://support.apple.com/kb/HT5418, and note that Apple suggests that you do a full back up of your system before you initiate this upgrade as well. Selecting your Apple Menu and Software Update will also reveal any other software updates available to you via Apple's own server.
Software updates for 3rd party applications can be found in your Apple App Store application – Software Update works specifically with Apple-loaded software. If you're uncomfortable with the Software Update process, you can also use Apple's Manual Update software to make it all smooth.
[via Apple]